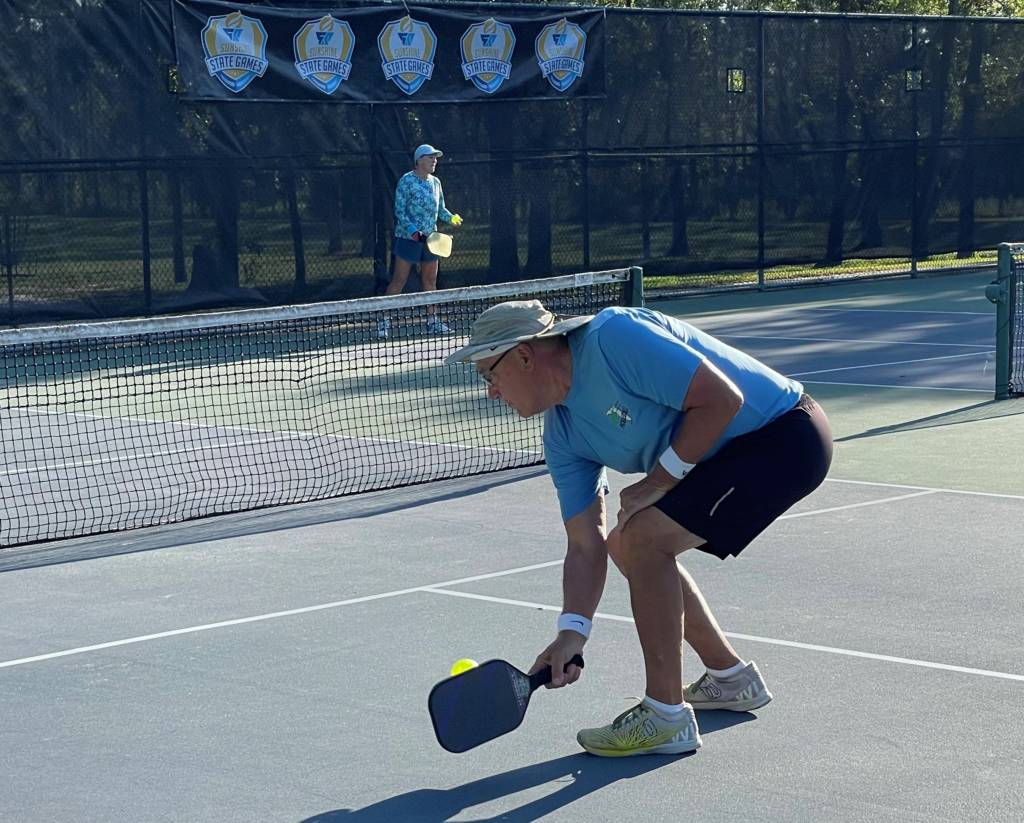 Artistic Swimming, Disc Golf and Pickleball at the Sunshine State Games Alachua and Clay County Festivals
Day One Video Highlights – Click for Video
The third of three Sunshine State Games Festival Weekends began this morning with serves across the net in Singles Pickleball at Ronnie Van Zant Park in Green Cove Springs.
A little later, to the southwest in Gainesville, Junior Olympic Division Artistic Swimmers dove into the pool with solo, duet, trio and team routines.
The day came to an end with Disc Golfers teeing off on the other side of Ronnie Van Zant Park, playing 18 holes on the Rattlesnake Course.
The first of three days featured three of the six sports in action this weekend. The six sports are the most of any Festival weekends going back to Memorial Day Weekend, on Saturday, May 29.
In Women's Singles Pickleball, Sandra Civitarese, of The Villages, won the Women's 50-59 age group gold medal. Civitarese won the 2020 Florida Senior Games 55-59 Age Group Women's Singles Gold Medal and was a silver medalist in Women's Doubles.
William Cason, of The Villages, won the Men's 65-69 age group gold medal, winning three matches. He defeated James Grafmeyer, also from The Villages, in the final. Grafmeyer was a silver medalist in Men's Singles at the 2020 Florida Senior Games.
Eleanor Phillips, of the YMCA Central Florida Loreleis, won gold medals in the 11-12 year old Figures and Solo Routines but also competed in 13-15 year old events. The 11-year old Phillips won the gold medal in the 12 and Under Figures event and in the 11 and under Solo Free. She also competed in the 13-15 Figures and Solo Free events as well as swimming in a 13-15 duet and team routine.
Her gold medal winning score in the Solo Free, was the third best of all swimmers, topped only by medalists in the 18-19 age group. She finished 11th in the 13-15 year old Figures event in a field of 37 contestants.
Jonathan Crowe and Luke McMillan, of Green Cove Springs, combined for an 18-hole score of 41, 13 under par, to win the Doubles Disc Golf Gold Medal. They finished three strokes ahead of Mark Westwood and John Nall.
All six sports of the two Festivals will be in action tomorrow. The schedule for Saturday is below.
Saturday, June 12 – Alachua and Clay Festivals Combined
8:00 a.m. – Pickleball (M/W Doubles), Ronnie Van Zant Park, Green Cove Springs
9:00 a.m.- Disc Golf (Singles), Ronnie Van Zant Park, Green Cove Springs
9:00 a.m. – Archery, Easton Newberry Archery Center and Gator Bowman (Onsite registration available at both locations beginning at 8:00 a.m.)
9:30 a.m. – Canoe/Kayak Marathon, Middleburg Boat Ramp (Onsite registration available beginning at 8:30 a.m.)
9:30 a.m. – Ultimate, Plantation Sports Complex, Fleming Island
9:30 a.m. – Artistic Swimming, Stephen C. O'Connell Center F, Juriday, June 11
The Sunshine State Games, Florida's only Olympic-style Sports Festival, is presented annually by the Florida Sports Foundation, the official sports promotion and development organization of the State of Florida. The 2021 Games are presented in conjunction with Clay County Tourism and Airstream Ventures, the Gainesville Sports Commission, Florida's Sports Coast and Polk County Sports Marketing. The Sunshine State Games is part of the state's $57.4 billion sports industry that accounts for 580,000 jobs statewide.