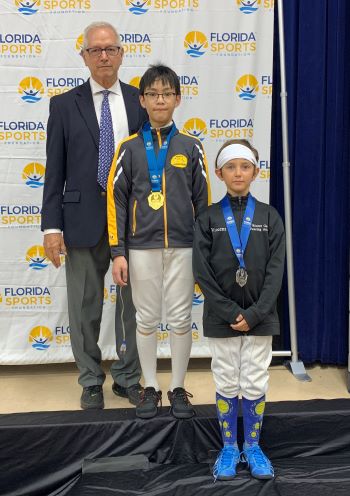 2023 Sunshine State Games Athletes Show Unmatched Determination to their Sport

Vincent Marcus became a fencer by window shopping.
Sometime between his fourth and fifth birthday, he was walking through downtown Winter Garden, with his family and passed the Winter Garden Fencing Academy. What he saw through the window that day led him to the Sunshine State Games Fencing Championships five years later.
He had to wait a few months, until his next birthday, since they didn't accept youth participants until they were five years old.
There is one more motivating factor that keeps Marcus (on bottom step in photo) coming back for more fencing.
"You get to stab people with a sword and not get in trouble," he exclaimed enthusiastically. "That's the best thing about fencing."
Stabbing people with swords earned him two silver medals in the Youth 10 and Youth 12 Foil Events at the Legacy Park Multipurpose Center, in Alachua, Saturday.
At 10 years old, Vincent Marcus is already a Renaissance Man.
Besides his fencing abilities, he "shows chickens," in Future Farmers of America events, participates in competitive math events and in the week leading up to the Sunshine State Games, he attended the West Orange High School Band Camp, where he played the trumpet.
"Piano is my main instrument," he said. "I just learned how to play Hedwig's Theme from the Harry Potter movie and now I'm working on a jazz song, 'Why Am I Blue."
Vincent begins the fifth grade in the fall at Lake Whitney Elementary School.
"He's a funny one," said Monica Marcus, his mother. "When he sets his mind to something, there's no stopping him."
After losing a semi-final mixed foil match against the eventual gold medalist, Declan Koe, from Jacksonville, Marcus was quite frustrated.
"I keep getting silvers and bronze medals." he said in an exasperated tone.
No doubt he will set his mind on a gold medal and will be on the top spot of the medal stand soon.
Also showing an incredible amount of tenacity at the Gator Bowmen Archery Range was 19-year old Julia Eckhoff, of Titusville (In Banner Photo at top of page).
Standing in a line of 90 archers shooting at 24 targets, Eckhoff was one of only six athletes shooting at two targets 70 meters away. While 22 of the targets were spread out between 40 and 60 meters, targets 6 and 7 sat further back than the rest.
While pulling back her bow to send an arrow more than 229 feet across the open field, Eckhoff sported a gold and green University of South Florida Bulls Archery Club shirt.
She's the only member of the club team.
Eckhoff has represented the USF Bulls at The Vegas Shoot, competing against athletes from 13 other schools and in the 2023 US Archery Collegiate Target Regionals – Southeast, in Statesboro, GA.
While many other universities have archery at the club level that receives financial support from the university student government, Eckhoff and her team of one receives no funding.
"She found out to receive funding, she would need to be an official club with officers and bylaws," said her father Tony. "So she decided to do it as an individual. She can still achieve All-American and Academic All-American status, which is a goal of hers."
The 19-year old recently completed her freshman year and plans to major in Biomedical Engineering.
Eckhoff has been competing in the Sunshine State Games as a member of the Brevard Archers, coached by Ron Lucas, who was the Chief Referee of the meet and a shooter.
Lucas was one of three generations of his family at the Gator Bowmen Range on Saturday, along with his son, Danny and grandson, Cody.
Sunshine State Games Ultimate players have long been admired for their determination to spend their mornings and afternoons of June in wide open multipurpose fields with temperatures in the 90s. Saturday was no different at the Jonesville Soccer Complex.
The 14 teams, 6 mixed and 8 men's teams completed pool play on Saturday before an afternoon thunderstorm halted play in the second half of the final round of games, making them official.
The Championship bracket for both divisions features three rounds of games with 9:00 a.m., 10:45 a.m. and 12:30 p.m. start times. The B-Unit and Shipwreck teams are the top two teams of the mixed division and the Upset and Ever Lassing teams are the top two of the men's division.
Artistic Swimming wraps up three days in the water H. Spurgeon Cherry Northside Pool on Sunday with Novice Division swimmers.
Through this weekend, over 4,800 of Florida's Finest Athletes have competed in Sunshine State Games events in eight different Florida communities.
Sunshine State Games Schedule, Sunday, June 11
7:30 a.m. – Artistic Swimming Begins, H. Spurgeon Cherry Northside Pool, Gainesville
8:30 a.m. – Fencing Begins, Legacy Park Multipurpose Center, Alachua (Onsite Registration is Available beginning at 7:30 a.m)
9:00 a.m. – Archery Begins, Gator Bowmen, Gainesville (Onsite Registration is available beginning at 8:00 a.m.)
9:00 a.m. – Ultimate Begins, Jonesville Sports Complex, Gainesville
All Sunshine State Games events are free of charge and spectators are encouraged to attend.
The Sunshine State Games is an annual Olympic-style Sports Festival for amateur athletes of all ages. Now in its 44th year, dating back to 1980, the Sunshine State Games is the longest continuously-running State Games in the U.S. The 2023 Sunshine State Game is held in conjunction with the Gainesville Sports Commission, Central Florida's Polk County Sports Marketing, Visit Lauderdale, Punta Gorda/Englewood Beach Visitor & Convention Bureau (VCB) and Earl Enterprises.