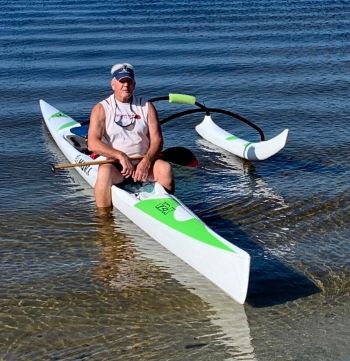 Endurance is Key at Sunshine State Games Events in Southwest Florida

It was a day of endurance at the 2023 Sunshine State Games Canoe/Kayak and Pickleball Championships.
Canoe Kayak athletes faced 7 to 12 mile races at Port Charlotte Beach Park and Pickleball athletes were playing in their third day of competition.
To begin the day, Canoe/Kayak Sport Director John Edwards explained the course route to the athletes ranging in age from 14 years old to athletes into the 70s.
"Go up that channel (pointing across the parking lot) up to Highway 41 to turn around and come back around the channel markers," Edwards explained.
He also talked about mangroves and islands and the long route reaching Highway 41 again before turning around and returning to Port Charlotte Beach Park.
John Zeigler, a seasoned 73-year old rower and paddler, from Punta Gorda (pictured at right), just happened to be at Port Charlotte Beach Park Saturday and noticed a fellow seasoned paddler, John Edwards. The Sunshine State Games Canoe/Kayak Sport Director for over 20 years and has paddled the majority of the Florida coastline, invited him to participate on Sunday.
"I haven't been in a boat since April 2 of last year when I had a mini-stroke," Zeigler said. "I thought I would come out here and do the short route, but ended up going 12 miles."
Zeigler's accomplishments on the water are endless. He has been in marathon races in Hawaii, rowed for 28 days, across the Atlantic Ocean, from the Canary Island to Barbados. He talked about being on a boat from Connecticut to Bermuda. Wearing a "Pirates of Antigua," visor on Sunday, he looked as if he could be singing along to Jimmy Buffet's "A Pirate Looks at Forty," while telling his stories on the water from over the years.
"I've probably done between 150 and 200 Canoe Marathon Races," he said.
Lynn Marie King, of St. Petersburg, is a novice on the water compared to Zeigler and Edwards, having picked up the sport in 2014.
King entered the six-mile marathon race and was grouped with the much younger athletes training at Ultimate Performance in Cape Coral. Upon her finish, she was told by the race timers, to her astonishment, her finish was only 13 minutes behind young men training for the American Canoe Association National Championships in August.
"I wish I had learned about Canoe racing earlier," she said. "It's great exercise and there's plenty of scenery to take in while in the water. I get distracted sometimes when I see interesting things, like a manatee."
CLICK HERE for complete Canoe/Kayak Results
Enduring three days of 90 degree temperatures at the PicklePlex of Punta Gorda, John Reichel, of Fort Myers won a gold and two silver medals, playing 17 matches in men's singles, men's doubles and mixed doubles 50-54 age groups.
He played five matches on Friday en route to his gold medal, seven men's doubles matches on Saturday and five on Sunday in mixed doubles, with his wife, Jennifer.
"I was figuring out on a calories burning calculator, in the last three days, I burned just under 9,000 calories," Reichel said.
He cites his increasing pickleball schedule, training, healthy diet and drinking a lot of fluids with electrolytes to endure the Southwest Florida summer heat, He was one of the last players to leave the PicklePlex each of the three days.
"You have to fuel your body right and have a positive mental attitude as well," he said. "Telling yourself 'you can do this,' the whole time."
Completing the Pickleball Triple Crown, winning gold medals in women's singles, doubles and mixed doubles was Kathryn Seward, of Punta Gorda. She won the 70-74 age group women's singles and women's doubles gold medal and the 65-69 mixed doubles gold. Seward played a total of nine matches over three days.
CLICK HERE for results from the 2023 SSG Pickleball Results
The 44th Annual Sunshine State Games continues next weekend in with Archery, Artistic Swimming, Fencing and Ultimate in Alachua County. Registration for Artistic Swimming and Archery is open through Monday, June 5. Visit the individual sports pages of www.sunshinestategames.com for competition and registration information for upcoming Sunshine State Games events throughout the month of June in Alachua County, Polk County, Orange County and Broward County.
The remaining 2023 Sunshine State Games schedule is below.
June 9-11, 2023
Artistic Swimming, H. Spurgeon Cherry Westside Pool, Gainesville, (Registration deadline extended to June 5)
June 10- 11, 2023
Archery, Gator Bowmen Archery Range, Gainesville, (Registration Open, deadline June 5)
June 10-11, 2023
Fencing, Legacy Park Multipurpose Center, Alachua (Registration deadline extended to Sunday, June 4)
June 10-11, 2023
Ultimate, Jonesville Soccer Park, Gainesville (Registration Closed)
June 16-18, 2023
Wakeboard, Elite Cable Park, Auburndale (Registration Open, deadline June 13)
June 17-18, 2023
Taekwondo, Auburndale Community Center, Auburndale (Registration Open, various price range deadlines through June 16)
Table Tennis, Simpson Park Community Center, Lakeland (Registration Open, deadline June 11)
June 23-25, 2023
Sunshine State Games Water Polo Championship, Rosen Aquatic Center, Orlando (Registration is open. Limit 8 Teams per Division. Registration for the Boys 18 and under division has reached capacity and is no longer taking registrations. Teams cannot register more than ONE TEAM PER DIVISION. Additional entries in Divisions may occur dependent on overall tournament registrations.)
June 24, 2023
Powerlifting, Lift District Fitness Center, Margate (Registration Open, deadline is June 9)
July 1, 2023
Congress Middle School, Boynton Beach, Winter Haven (Registration Open, deadline is June 23)
The Sunshine State Games is an annual Olympic-style Sports Festival for amateur athletes of all ages. Now in its 44th year, dating back to 1980, the Sunshine State Games is the longest continuously-running State Games in the U.S. The 2023 Sunshine State Game is held in conjunction with the Gainesville Sports Commission, Central Florida's Polk County Sports Marketing, Visit Lauderdale, Punta Gorda/Englewood Beach Visitor & Convention Bureau (VCB) and Earl Enterprises.