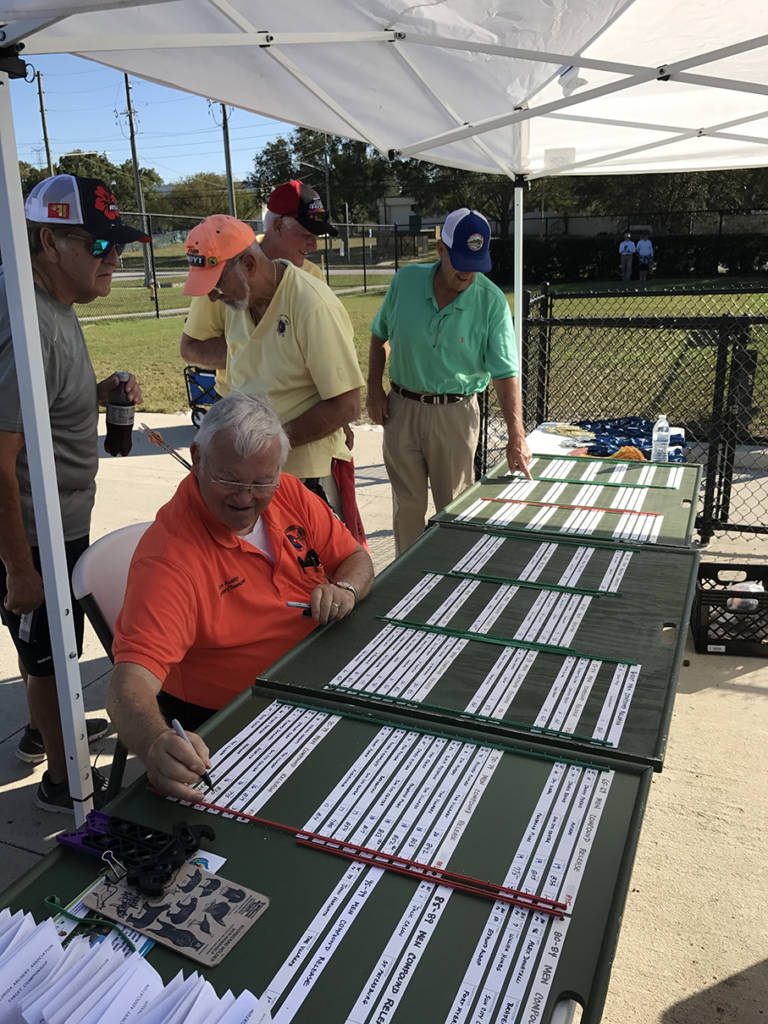 TALLAHASSEE, Fla. – It's safe to say, if there's an archery tournament going on in the State of Florida, Tim Austin has his hand in it somehow.
He's been the Archery Sport Director in a combined 68 Sunshine State Games and Florida Senior Games, encouraging participation in the sport from the age of 8 to 80.
His expertise not only benefits the Florida archery community, but the 82-year old Gainesville resident shares his wealth of knowledge on a national scale.  Needless to say, it is welcomed and encouraging.
Tim Austin's influence on the sport is far reaching and appreciated by all who pull back a bowstring.
"He has been a major influence on the success of archery in the State of Florida," said Frank Gandy, of Bartow, a long-time friend of Austin and competitor in the Sunshine State Games and Florida Senior Games.  "He's been the Florida Archery Association Secretary as long as I've known him and he's always in touch with every archery club in the state communicating with them on rules and registration."
A member of the Archery Hall of Fame, Gandy has traveled the country, earning numerous national championships.  He and Austin have shot together many times over the years, being paired in the same age group.  He admits, Austin's travels are more extensive.
"I've shot in tournaments from Washington state to New York state, but Tim has traveled to more places," said Gandy. "People in the sport of archery are a tight-knit group but very open and welcoming. He knows a lot of people in a lot of places."
Here's a peek into the mind of one of Florida's finest amateur sports advocates.
For those who know you, are familiar with some of the events you have managed or assisted.  Share with us a list of events that have benefited from your involvement.
Sunshine State Games Archery Sport Director – 1981 to present (39 years)
Florida Senior Games Archery Sport Director – 1993 to present (27 years)
National Senior Games Competition Manager – 1999 to present (11 National Senior Games)
Life Member Florida Archery Association
Secretary/Treasurer Florida Archery Association:  1973 to present
Florida Archery Association Hall of Fame – Administration
Life Member Gator Bowmen, Gainesville
Gator Bowmen President and Secretary/Treasurer: 2002 to present
Life Member National Field Archery Association (NFAA)
NFAA Florida Director:  1998 to 2005
NFAA Southeast Councilman: 2005 to present
Member National Archery Association (NAA)(USA Archery)
Life Member Archery Association Europe (AAE)
Event Management, Director, Judge or Volunteer at the following events
International Field Archery Association (IFAA) World Field Championship, IFAA World Bowhunter Championship, 1996 Atlanta Olympic Games, World Archery Festival, Las Vegas, NFAA National Indoor Championship, WAF Classic, NFAA SE Field Championship, NFAA SE Indoor Championship, All State Archery Association Championships, 2005 World Target Team Trials.
Austin also designed several competition Field Archery Ranges, including four ranges at the NFAA headquarters in Yankton, South Dakota.
When did you start participating in archery and what have been some major changes in the sport and equipment since you started?
I first shot archery at the University of Florida as a physical education requirement and found I was naturally able with a recurve bow and arrows.  I got involved in the local NFAA Club and went on from there.  In 1958 we shot with recurve bows, and I started out shooting instinctively.
In 1969, in Europe I put a site on the bow and got serious, and in 1972 I was the IFAA European Freestyle Champion in Scotland shooting a recurve bow.  Compound bows were already coming into NFAA and a few years later I started using a compound bow – more precise.
The equipment has improved over the years. Recurve bows and compound bows are better now, and arrows are better now.
What is a standout moment or two from each of the Sunshine State Games and Florida Senior Games?
The Sunshine State Games and Florida Senior Games are handled just like all other State Championship Tournaments (7 different ones). What is outstanding is the participation, the archers and their performance, and the State Officers who make it all happen.  My function is a business manager and the administrative center for our association.
I'm the first one to arrive and last to leave. I'm the one who takes the registrations online, from those who call me and through USA Archery. I get everyone checked in and record all of the scores. The draw for me is making it all happen along with the other officers.
Recently the Archery National Governing Body has joined with a few other sports to develop programs to keep youth involved in Archery as they grow older.  what has been happening in Florida to keep youth archers involved?
Youth programs are available in all our Archery Governing Bodies – there are several.  The Olympic body is USA Archery and has long had an active Youth program. It starts as young as an individual can participate and goes through different age groupings until at age 21, when the individual participates as an adult.
The National Field Archery Association also has Youth programs for Pee Wee (under age 8), Cub (8-11), Youth (12-14), and Young Adult (15-17).  USA Archery and the National Field Archery Association operate internationally to involve youth as well.
The next JOAD Championships are schedule to be held at the Easton Newberry Facility.  Last year, there were 50 or more attendees that came from all over the state, through age 20. They shoot the same 720 round as in the Sunshine State Games.
What's your favorite part of being involved in the sport of archery? Either as a participant or an administrator?
I have been involved in administration, judging, shooting, and even in writing and re-writing rules.  Each organization has its own separate rules that are followed at the organizations championships.  For some reason, I have to be familiar with USA Archery Rules, NFAA Rules, IFAA Rules, Florida Archery Association Rules, and National Senior Games Rules and all have slight differences.
I get great pleasure shooting an arrow and having it strike in the middle of the target, even more pleasure shooting with other archers and being involved in the sport at all levels.  I work at the local, state, regional, and national level and enjoy it all.  Perhaps I'm getting a little ancient at 82, but I try to keep current and young with my sport.  Medically, I can't shoot right now because I have an access port in my chest for chemotherapy.
Besides his archery accomplishments, Austin received a Bachelor of Arts degree in English and a Master's of Education degree in Language Arts from the University of Florida, along with a Master's of Science degree in Management from the University of Arkansas. He is a retired U.S. Air Force Lieutenant Colonel after 28 years of active and reserve service and retired U.S. Postal Service mail carrier (26 years in Gainesville).  He has been married to his wife, Barbara, for 45 years and is the father of two sons and three stepdaughters.
Austin is currently battling cancer and undergoing chemotherapy in an effort to accurately split the cancer cells with the skill and precision of an experienced archer.