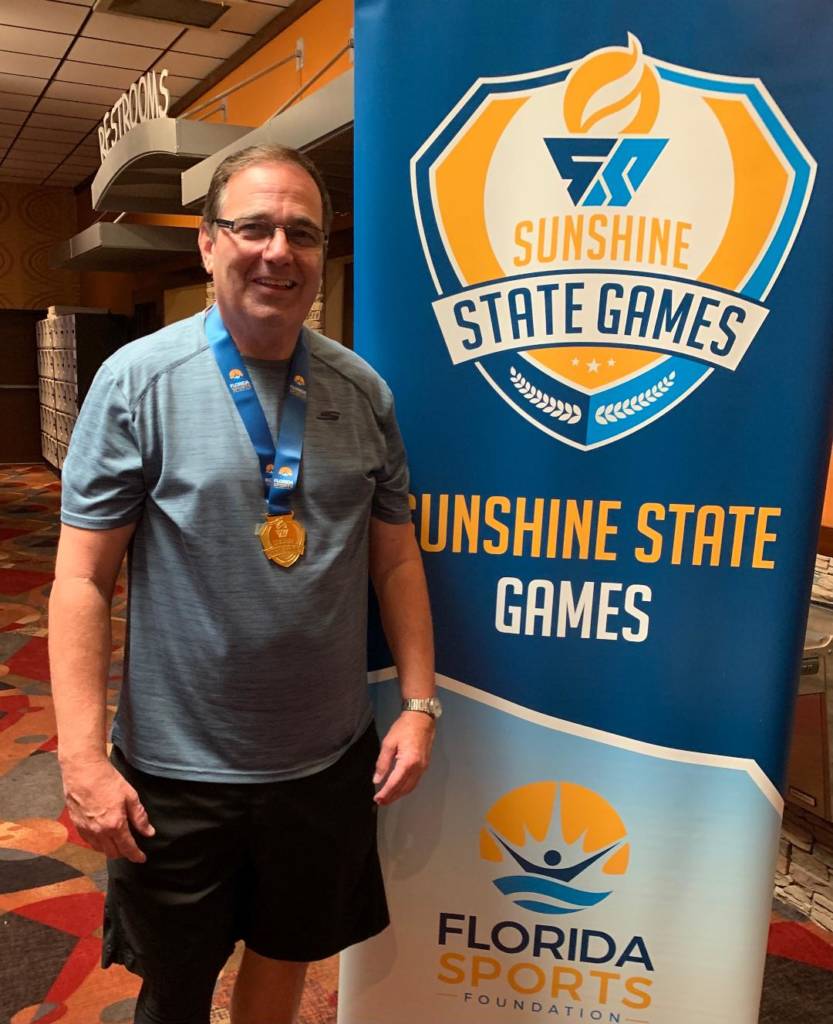 Perfection and Near Perfection at the Sunshine State Games Polk County Festival
Watch Video Highlights at: 2021 SSG Polk County Festival – Day 2 – YouTube
Full Results at: Sunshine State Games | Our Results | Amateur Sports
LAKELAND – The Sunshine State Games Polk County Festival came to a close with an athlete completing a perfect record on the Taekwondo mats and a bowler nearing a perfect game of 300 as he crept toward the tenth frame.
Bringing an end to two days of Taekwondo at the RP Funding Center, four gold medalists from different weight classes in the 18-39 age group met in a Tournament of Champions bracket.
Noah Avroya, a 19-year old from Coral Springs (on right in photo), fighting in the 147-171 pound weight class, won his fifth consecutive, and final match of the day, to earn the title of Grand Champion.  He won three matches in his weight class to advance to the Tournament of Champions.
In the first round, he defeated Justus Roberts on points, 18-7, to advance to the finals, where he met Christian Hernandez (Over 171 pound class gold medalist from Orlando), who advanced to the final with a knockout of Quasey Hart.
Avroya was at a significant height and weight disadvantage in the final bout, with Hernandez having a six-inch height and 33-pound weight advantage.
After the first two rounds of 1:30 each, Hernandez held an advantage on points, 9-6, over Avroya. In the third and final round, Avroya outscored Hernandez 13-4 for a 19-13 win.
With the score tied at 12 with 25 seconds remaining, Avroya unleashed a flurry of kicks to pick up seven points and win the gold medal and his fifth match of the day.
"I just executed the game plan I needed to win," said Avroya. "I kept my right leg in front and connected with the kicks."
At Cypress Lanes, 20 miles to the east in Winter Haven, Jim Williams, a Florida Senior Games qualifier from Lakeland (pictured above right), flirted with the coveted perfect game when began the third of his three game set with eight consecutive strikes.
He left one pin standing on his first roll of the ninth frame and picked up the spare.  He also spared the 10th frame and rolled a strike with his final ball to finish with a final game score of 268 and a three game total of 658.
The 268 followed scores of 188 and 232 in the first two games.
"I had better speed on the ball in the last two games," Williams said his improvement. "In the first game, it was about 14 miles per hour and I bumped it up to 15 or 16 in the last two games. I should have rolled a 300 in the last game, but got a bad break in the ninth frame."
Bowling in her final youth tournament, Mia Cruz, of Winter Haven (at right), won a pair of gold medals. She won the Girls Singles 141 and above Gold medal, with a three-game scratch score of 644. Her individual game scores were 194, 235 and 225. She also won a Mixed Doubles gold medal with Luke Olson, on Saturday.
A bowler since she was seven years old, Cruz is recent graduate of Winter Haven High School and the 18-year old will attend Polk State College and begin bowling with adults.
"Now it's time to prove yourself," she said. "I'll be bowling against some of my coaches."
The 42nd Annual Sunshine State Games continues next weekend with the first of two Alachua County Festival Weekends.  Swimming will be held Friday, June 4 through Sunday, June 6 at the Dwight H. Hunter Northeast Pool and Fencing will be held at the Legacy Park Multipurpose Center in Alachua on Saturday and Sunday.
The Sunshine State Games, Florida's only Olympic-style Sports Festival, is presented annually by the Florida Sports Foundation, the official sports promotion and development organization of the State of Florida.  The 2021 Games are presented in conjunction with Clay County Tourism and Airstream Ventures, the Gainesville Sports Commission, Florida's Sports Coast and Polk County Sports Marketing. The Sunshine State Games is part of the state's $57.4 billion sports industry that accounts for 580,000 jobs statewide.