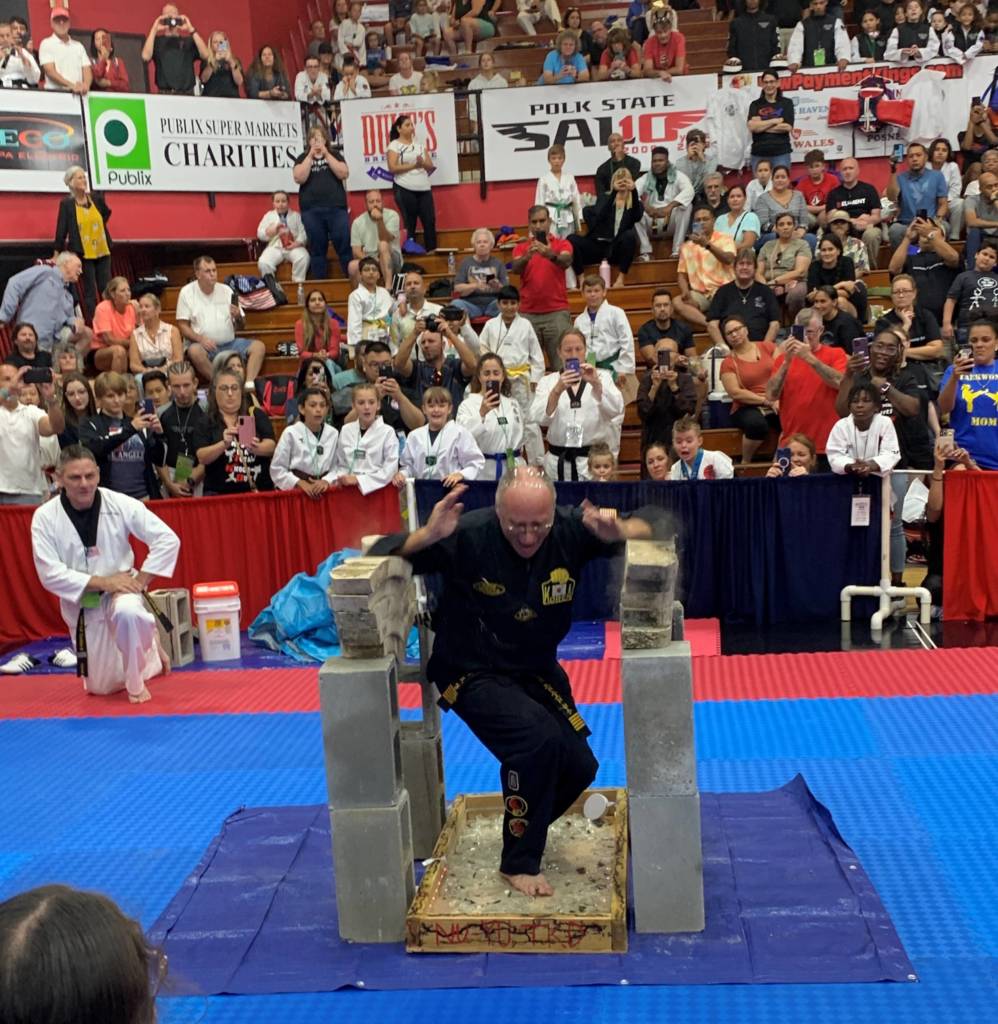 2023 Sunshine State Games Taekwondo Fills Polk State College Gymnasium with Record Number of Athletes

With a record number of nearly 400 athletes on the mats Saturday, the Polk State College Winter Haven Health Center was completely consumed with Sunshine State Games Taekwondo.
Athletes maneuvered through other athletes, across the floor, to take the places surrounding the six mats. Spectators filled bleacher seats in the lower and upper levels and stood in the upper concourses to see their athlete of choice. Coaches yelled instructions to their athletes while referees and judges determined scores and medalists.
Among the variety of activities on the floor, Breaking, Weapons, Forms and Sparring events, a handful of athletes stood out.
Standing in a wooden box of broken glass, Chris Thompson, of Dunnellon, carefully measured the five, three inch curved garden slabs of concrete on either side of him.
As he measured the concrete, Sunshine State Games Sport Director James White said, "I haven't seen anything like this since the 70s."
Thompson jumped up and shattered the two stacks of concrete with double elbow strikes before his feet hit the box of broken glass.
"I've got really calloused feet and don't wear shoes a lot, so my feet are conditioned," he said, when asked about how he withstood the glass on his feet. "I did have a little poke on the side of my foot, but other than that, I'm fine."
While Thompson, 47, claims to have completed the same Power Breaking feat, "about 25 times," he hasn't competed in a Taekwondo event in 15 years. He's been coaching and training athletes at Nu-Yu Taekwondo, in Morriston, during his time away from the mat. He also competed in a "Creative Breaking," event where he broke three boards with his thumb.
"I'm a little unorthodox," Thompson, who competed with glitter gel in his hair, said. "It was a dare by my students. I had them paint a 10 on the top of my head so when I bowed to the judges they would see a 10 and give me that score."
Since she made her debut at the Sunshine State Games in 2017, in the first Sunshine Warrior Para Division competition, Kathryn Baxter, of Miami, has been busy honing her Taekwondo skills.
Prior to her gold medal winning Forms routine Saturday, Baxter won a bronze medal at the Virtus Global Games, in Vichy France, on June 9. It was her first international competition.
She was one of more than 1,000 athletes competing in Global Games, the most important international competition for high-level athletes with intellectual disabilities, Down syndrome and autism without intellectual disabilities.
Baxter was part of a nine-member team, ranging in ages from 14 to 35, representing the U.S. at the Global Games. At 18-years old, Baxter was the youngest woman on the team. She qualified for her spot on the team at the 2022 AAU National Championships, in Las Vegas.
"I train five days a week and also do Jujitsu," said Baxter, to be able to compete in the events around the country and now the world. She will compete in the 2023 AAU National Championships, the first week in July, in Fort Lauderdale.
In another first for Sunshine State Games Taekwondo athletes, two-year old Jeremiah Arauz, who joins his family at Extraordinary Martial Arts in Miami, became the youngest Taekwondo athlete, and possibly the youngest athlete in the 44-history of the Sunshine State Games.
Jeremiah broke a board, held by his father, Raymundo, to earn his gold medal. Besides Jeremiah's father, his mother, Elizabeth, brother Isiah, and sister Emily, also competed Saturday.
"He's been coming to the gym with us while we trained and started mimicking what we do and here he is," said Raymundo, who also was in the Breaking competition and broke one of his boards with a head butt.
Sunshine State Games Taekwondo continues Sunday with World Class Black Belt Forms and Sparring competition, beginning at 10:00 a.m., at the Polk State College Winter Haven Health Center.
While the 400 athletes were in competition at the Polk State College Winter Haven Health Center, Lakeland's Simpson Park Community Center hosted eight Table Tennis divisions Saturday. Winston Dowridge, of Jacksonville, earned a gold medal in the Under 1875 Round Robin Division and a silver medal in the Under 2100 Round Robin Division.
Dowridge is a 13-time Florida Senior Games gold medalist and won a Men's Doubles and Mixed Doubles gold medal at the 2022 Florida Senior Games. He is also competing at the 2023 National Senior Games, in Pittsburgh, PA, in July.
Seven more divisions will be played on Sunday and the 2022 Sunshine State Games Athlete of the Year, Chi Chan, of Orlando will be recognized before he plays in the Open Division.
Elite Cable Park, in Auburndale, hosted the preliminary rounds of Wakeboard, Wakesurf, Foil Lake, Wake Park and Features Lake events, Saturday, on two different lakes. On one lake, wakeboarders were pulled by cable and on the other, they were pulled by a boat. The final rounds, of the inaugural Sunshine State Games Wakeboard event, begin at 9:00 a.m. on Sunday.
Schedule for Sunday, June 18
8:00 a.m.: Wakeboard Onsite Registration, Elite Cable Park, Auburndale
9:00 a.m.: Table Tennis Competition Begins, Simpson Park Community Center, Lakeland
9:00 a.m.: Wakeboard Competition Begins (Wake Park/Features Lake), Elite Cable Park
10:00 a.m.: Taekwondo Competition Begins, Polk State College Winter Haven Health Center
All Sunshine State Games events are free of charge and spectators are encouraged to attend.
The Sunshine State Games is an annual Olympic-style Sports Festival for amateur athletes of all ages. Now in its 44th year, dating back to 1980, the Sunshine State Games is the longest continuously-running State Games in the U.S. The 2023 Sunshine State Game is held in conjunction with the Gainesville Sports Commission, Central Florida's Polk County Sports Marketing, Visit Lauderdale, Punta Gorda/Englewood Beach Visitor & Convention Bureau (VCB) and Earl Enterprises.