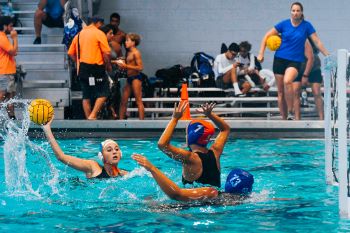 Spotlighting the Defense of Sunshine State Games Water Polo

Water Polo fans erupt into jubilant cheers when the yellow ball with black stripes clears the goalie and hits the back of the net for a score.
When the goalie manages to deflect or block the shot from reaching the net, there's applause, but not with the same gusto.
When a defensive player, creates havoc, away from the goal to create a turnover sending the team back into an offensive mode, there's hardly an acknowledgement.
While Sunshine State Games players on 57 teams have combined for more than 1,600 points through 79 games, there is a defensive strategy to the game.
In an attempt to keep opponents from scoring, defensive players swim toward players with the ball in an effort to back them away from the goal. There's the classic double teaming of offensive players. Teams will find themselves running out of time on the :30 shot clock, due to a swarming defense, and take a not so favorable shot.
All of these defensive measures lead to turnovers.
Then there's the dependable goalie who put their bodies on the line to make saves.
The Greater Orlando Aquatic Teams, which reads as GOAT on the schedule, has settled in for a defensive tournament and eight of their 12 games have been decided by four points or less.
"Everyone plays defense," said Greater Orlando Head Coach, Paige Baker. "Every practice, we work on defensive situations. A three on two situation and other situational defenseS. In games, sometimes we play a man-to-man defense, others it's a drop, or zone defense, where you play off one person and guard two. It all depends on the situation.
Baker found herself running from one close finish to another Saturday morning.
While the GOAT Girl's 18 and Under team came up short in an 11-9 loss to Florida East Coast Water Polo, Baker then relocated for the Men's 18 and Under team game, an 11-9 victory against Hialeah.
After the Girls 18 and Under team fell behind 8-3 at halftime, the GOAT defense changed the tone of the game in the second half and outscored FEC 6-2 over the next 10 minutes of play to cut the FEC lead to 10-9 with two minutes to play.
GOAT goalie Marina Hanlon had 11 saves in the game and the defense accounted for nine turnovers, the majority of them in the second half.
"Any time your goalie has eight saves or more, it's a good game," Baker said.
FEC created a turnover of its own with :52 remaining and scored an insurance goal with :23 left to secure the 11-9 win.
Baker congratulated the team afterwards for cutting the lead to one point with a chance to win.
She then took off for the other side of the Rosen Aquatic Center for the Boy's 18 and under game.
After three periods, the GOAT Boy's 18 and Under team held an 8-7 lead. After some back and forth scoring, GOAT took a 10-9 lead with 3:05 remaining. Hialeah was denied scoring on eight offensive opportunities for the remaining three minutes.
It was a combination of blocked shots on goal, a missed penalty shot and a few turnovers, the most timely coming with :18 remaining. GOAT was running out the clock and when it approached :00, a player hurled the ball toward the goal and it made its way into the net, as time expired, for the 11-9 win.
"We shouldn't have given them eight opportunities to get that close to the goal," Baker said. "We played good goal line defense but not out in the open."
The GOAT Boys 16 and Under team was undefeated in pool play and meets South Florida Water Polo in the gold medal game, Sunday morning at 8:40 a.m. GOAT won all three of its games by three points or less while South Florida Water Polo had a 14 point average margin of victory in its three pool play wins. The Girls 18 and Under Team finished pool play with a 2-1 record. They await their bracket play opponent after the division finishes bracket play Sunday morning.
CLICK HERE for full SSG Water Polo Results
Fun With Sunshine State Games Water Polo Scoring – Through Saturday's Games
85 Games
1,639 Total Goals
19.3 Goals Per Game
17 Games with 20+ points scored by one team
Most Points in a Game: 30, NC Select 17, Patriot Aquatics 13 (Boy's 18 and Under)
Low Points in a Game: 6, Greater Orlando Aquatics Team (GOAT) 4, Seminole 2 (Girl's 18 and Under)
Games Decided by One Point: 7
Schedule of Events –June 25, 2023
7:00 a.m.: Water Polo Competition Begins, Rosen Aquatic Center, Orlando
4:10 p.m.: Last Scheduled Water Polo game
The Sunshine State Games is an annual Olympic-style Sports Festival for amateur athletes of all ages. Now in its 44th year, dating back to 1980, the Sunshine State Games is the longest continuously-running State Games in the U.S. The 2023 Sunshine State Game is held in conjunction with the Gainesville Sports Commission, Central Florida's Polk County Sports Marketing, Visit Lauderdale, Punta Gorda/Englewood Beach Visitor & Convention Bureau (VCB) and Earl Enterprises.