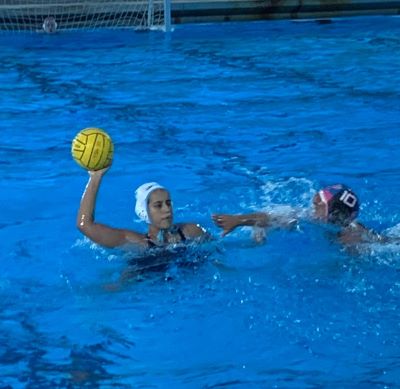 South Florida Water Polo Rivals Make Their Annual Trip to the Sunshine State Games
It's hard to imagine a Sunshine State Games, presented by Amazon, Water Polo Championships without Riptides Water Polo and South Florida Water Polo.
Besides both of their long histories in the Games, Riptides has six teams playing in the eight divisions and South Florida Water Polo has nine teams, including three in the Men's Open Division.
One of the most consistent teams in the past 10 years has been the Riptides Women's Open team, coach by Carroll Vaughan. Besides a few handfuls of gold medals, the Women's Open team featured Olympic-gold medal winner, Ashleigh Johnson, as recently as 2016.
On the 2022 Women's Open team, Vaughan has another protégé in 16-year old Gaby Montalvo (pictured at right), who has spent the last eight months playing on Olympic Development Program teams and was invited to play on the U.S. National Juvenile Team at an International Tournament in Athens, Greece, in August.
"She's following in Ashleigh Johnson's footsteps," said Vaughan.
Montalvo began playing on the Riptides Women's Open team with Vaughan at 15. As a member of the Gulliver Prep Girl's Water Polo team, she gets a double dose of Vaughan's tutelage.
Her Olympic Development Program work has been going on for the last four or five years, according to her father, Mario Montalvo. Her latest process began last September, when she was selected to play for a Florida Olympic Development team. That led to a Southeast Region team spot and a spot on a 12-member National Tournament team in California. Finally, she was invited to a National Team Selection Camps in Irvine, California, in May.
Throw in a spot on the Puerto Rico Women's Senior National Water Polo team to compete in the Fédération Internationale de Natation (FINA) Water Polo Challenger Cup in Barranquilla, Colombia, in October, 2021. Puerto Rico won the bronze medal in the tournament, with a 15-14 victory over Venezuela.
"That was my first international competition and there's a big difference," she said. "The referees allow you to play a little more aggressive. I'm really looking forward to playing in Greece and representing Florida. I know I'll be there based on my own skills and level of play."
That's a lot of water polo in the last nine months for the, "Florida girl, or Miami girl," as she's known by her national teammates.
On Saturday, Montalvo played four games at the Coral Springs Aquatic Center. She played two games with the 16 and Under team and two games with the Women's Open team. She was a vital part of the final two games of the day. The first, in the 16 and Under Division, a 9-8 overtime loss against FEC, where she hit the top bar of the goal, from the middle of the pool, as time expired. She scored two goals in the Women's Open team 12-7 win over South Florida Water Polo.
"That would have been an impressive shot," Montalvo said, of her last second hurl. "I've been practicing that shot."
Even with a two-hour afternoon weather delay, pool play wrapped up with the exception of three Men's Open Pool Play games, beginning at 7:00 a.m. Medal round games begin at 9:30 a.m. with the 12 and Under Coed Division and continue through 4:30 p.m. when the Boy's 18 and Under Gold Medal game is played.
For up-to-date results from the Water Polo Championships on Sunday, visit www.sunshinestategames.com/results.
Powerlifting was held at Lift District Fitness in Margate with athletes competing in squat, bench press and deadlift events. The Men's Champion of Champions for Powerlifting (all three events) was Jhamali McCalla, of Margate. Michael Jean earned the award for Push/Pull (bench press and deadlift) and the Bench Press Award winner was Darian Bryant, of Sunrise.
Jean, of Pembroke Pines, had the highest Deadlift total with a 600 pound lift. It was a personal best for the well-over 300 pounds Jean. Christopher Kelly, of Naples, matched Jean's 584 pound deadlift but was unsuccessful at 600.
The Women's Champion of Champions for the Powerlifting was Paris Isley, of Pembroke Pines. Winning the award for Bench Press was Angela Hong, from Davie, who at 125 pounds, bench pressed 248 pounds, a world-class accomplishment, according to Powerlifting Sport Director, Robert Keller.
The final day of Sunshine State Games, presented by Amazon, for the month of June, is Sunday with Water Polo, at the Coral Springs Aquatic Center and Fencing at the Legacy Park Multipurpose Center, in Alachua. The events are free and open to the public.
Also being contested on Saturday is Powerlifting at Lift District Fitness, in Margate, and Fencing at the Legacy Park Multipurpose Center, in Alachua.
The Sunshine State Games, presented by Amazon, are an annual presentation of the Florida Sports Foundation, the official sports promotion and development organization of the State of Florida. The Games are held in conjunction with local partners that include, Central Florida's Polk County Sports Marketing, Clay County Tourism, the Gainesville Sports Commission and Visit Lauderdale. Now in its 43rd year, the Sunshine State Games are the longest continuously-running State Games in the U.S.