CLEARWATER – The 2019 Sunshine State Games (SSG) International Beach Games saw Beach Volleyball Players flying through the air to spike balls for points, Beach Tennis balls flying across the net for points, Beach Ultimate discs flying across the sand for scoring opportunities, Super Heavy Weight implements flying from platforms to great distances and flat throws of Corn Hole bags across 24 feet into an eight inch circle in a board.
While all of this occurred on the expansive beach area between the Sheraton Sand Key Resort and the Gulf of Mexico, Men and Women Powerlifters were stepping up to the bar to perform great feats of strength.
Over 1200 participants were in action Saturday at the Sheraton Sand Key Resort on Clearwater Beach.  They played on 12 Beach Volleyball Courts, 12 Beach Tennis Courts, 3 Beach Ultimate fields, 6 pairs of Corn Hole Boards, 2 Heavy Weight Throw Platforms and 1 Lifting Platform.
"To see the variety of athletes of all ages, competing in the six sports on Saturday on one of Florida's top-rated beaches, was very impressive," said Florida Sports Foundation Vice President of Amateur Sports, Marvin E. Green, Jr. "Athletes who choose to Come Play in Florida, are treated to sports opportunities like this, whether they be indoor or outdoor, on a year-round basis."
Throwing Heavy Weights

One of the more impressive performance came from Oneithea Lewis, an Ultra Weight Pentathlon athlete, from Oakland Gardens, NY, who set a USATF National Record in the 50-59 age group with a combined score from all five throws of 5988.  Lewis threw five different weights, ranging from 20 to 98 pounds.
She did it all while wearing a neck brace.  In 2012, Lewis fell from a ladder while retrieving her throwing equipment from the attic.  She suffered multiple neck and back injuries and now has 19 pins and screws in her neck.
She only wears the brace during competition and will require back and hip surgery in the near future.
"After that, I won't be able to compete any longer," she said.  "I'm trying to do all I can while I still can."
On the Beach Volleyball Courts

Of the 41 Beach Volleyball teams, playing in eight different divisions, the two considered to be the most competitive are the Men's and Women's Open Divisions.
The Men's Open Division was won by the team of Petr Doubrovsky, a former member of the Czech Republic National Volleyball team, now attending Warner University in Lakeland, and Luiz Costa, an AVP-ranked native of Brazil, now living in Orlando.  The pair defeated Justin Phipps and John Lindsay, 21-16, 26-28, 15-11, in the championship match.
The Women's Open Division gold medals went to the team of Taylor Waggoner and Brittani Gray, both of St. Petersburg.  Waggoner played collegiate volleyball at Northwestern and Gray played at Southeast Louisiana.
Back and Forth on the Beach Tennis Courts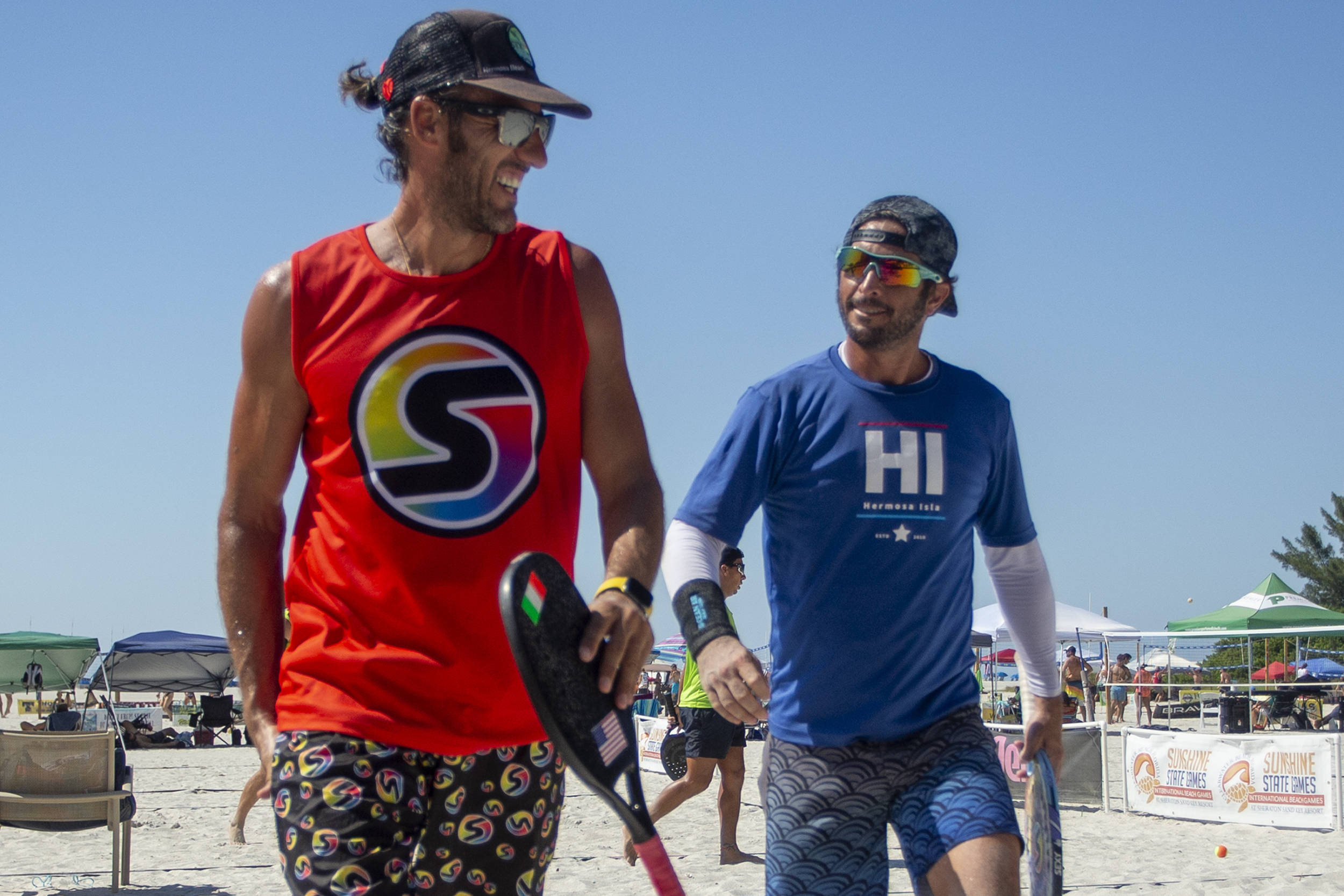 After taking the top two spots in the Beach Tennis Men's Singles event on Friday, gold medal winner Carlos Rivera teamed with silver medalist Matteo Godio to go undefeated in five matches and win the Men's Open Doubles Division gold medal.
Also returning to win her second gold medal in as many days, was Women's Singles gold medalist Angela Bemquerer, who teamed with Mayra Kaeffer.   Both are ranked in the top 30 of the IFBT Women's Doubles Rankings, with Kaeffer at 17th and Bemquerer at 27th.
Stepping up to the Powerlifting Bar
With three Internationally Accredited Referees in attendance at the Beach Games Powerlifting competition, it gave athletes a chance to set USPA World Records.  The nearly 40 women's powerlifters and men's powerlifters under the 90kg weight class combined to set 12 squat, 5 bench press and 13 deadlift world records.
Rikki Marquette, student at the University of Florida, broke the Women's 56kg Squat World Record on first lift, at 297.5 lbs., she then broke her own record two more times.  Her second lift was 308 lbs and her third and final lift was 314 pounds.
At just over five feet tall, Marquette weighed in for the competition at 117 lbs and lifted nearly three times her body weight.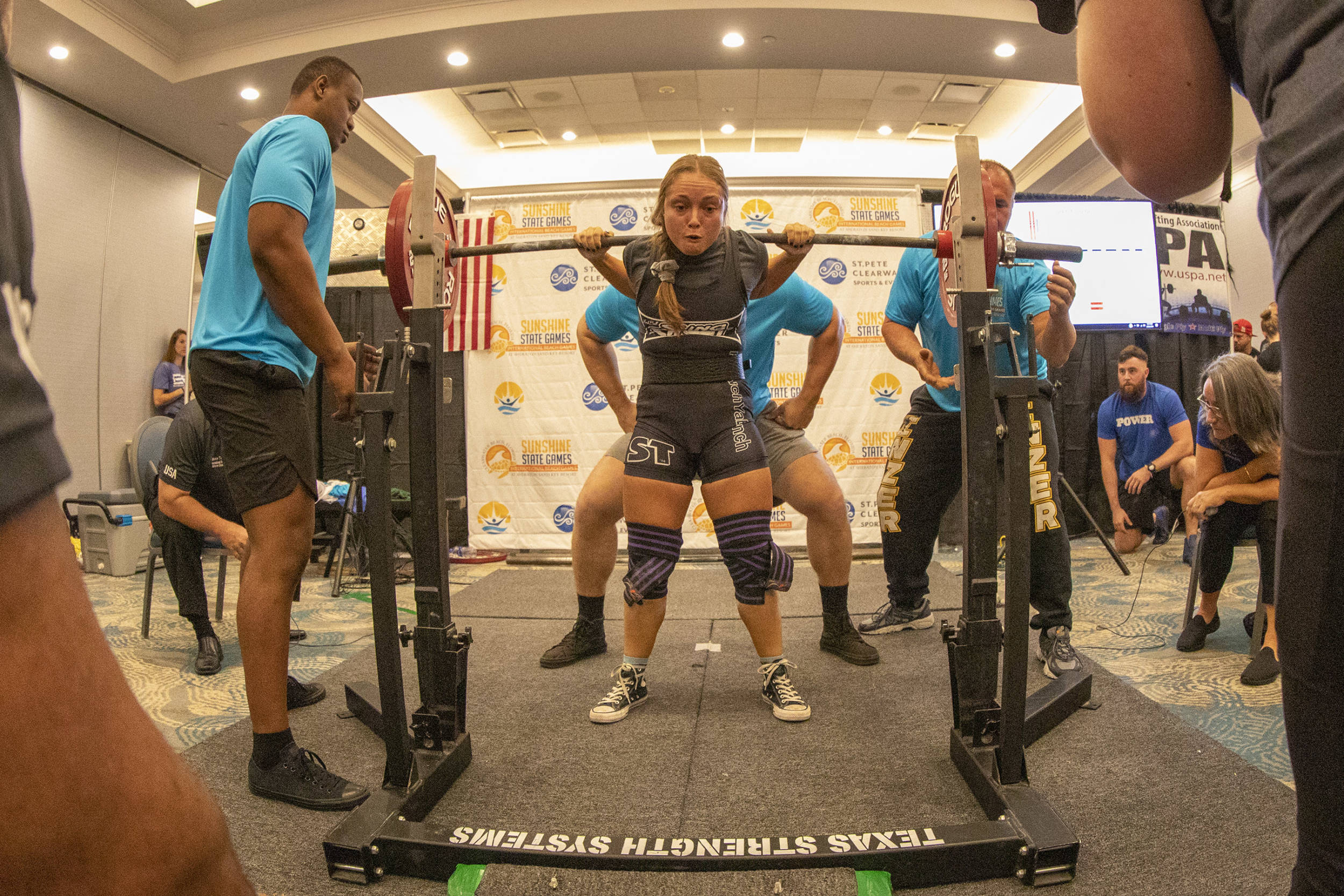 Four lifters set World Records in all three events, the Squat, Bench Press and Deadlift.  Completing the clean lifts in all three were Avey Porkonoy, of North Carolina, in the Women's Open Super Heavy Weight Division, Cindy Rivera, in the Women's Open 60K Division, Mike McCammack, in the Men's Masters 75kg, Mary Lissfelt, of Ohio, in the Women's Masters 65kg Division.
Flying the Ultimate Discs
The SoFlo Coed team won its second gold medal in three years, going undefeated in five pool play games, and also took home the Spirit of the Game Award.
The deciding game of the five wins came in SoFlo's fourth of five games, a win over the also undefeated at the time, Liquid FunShine team. The SoFlo team is made up of players from Miami-Dade and Broward Counties.
"We were a little concerned going into that game because they were also undefeated and we knew they had some talented players," said Andrea Crumrine, who served as the captain of the team made up of five women's players from the Fiasco team and men's players from the El Nino team.
Throwing Bags into the Hole
A pair of brothers, 23-year old Dylan Denny, and 21-year old Drake Denny, won the Team Corn Hole competition, topping the silver medal-winning team of Khristine Schwartzkopf and Brad Tanning, 21-20 in the championship match.
The Denny brothers, from Brandon, who both served three-year stints in the U.S. Army, came from behind in the final frame for the one-point win.
The Fifth Annual Beach Games are a program of the Florida Sports Foundation, the official sports promotion and development organization of the State of Florida, in partnership with Visit St. Pete/Clearwater.
Schedule for Sunday, September 29
Powerlifting, 90kg and over, 9:00 a.m. (Inside Hotel in Bay Conference Room)
Beach Volleyball, Coed Teams, 9:00 a.m.
Highland Games, 9:00 a.m.
Beach Tennis, Mixed Open & Advanced Doubles – Pool Play, 9:30 a.m.
About the Sunshine State Games
The 40th Sunshine State Games are presented annually by the Florida Sports Foundation (FSF), the state's lead sports promotion and development organization, and a division of Enterprise Florida, Inc.  The Foundation works in conjunction with a variety of local sports industry partners to present the different competitions.  The Sunshine State Games, an annual amateur sports tradition in Florida, is part of the state's $57.4 billion sports industry that accounts for 580,000 jobs statewide. #PlayInFlorida