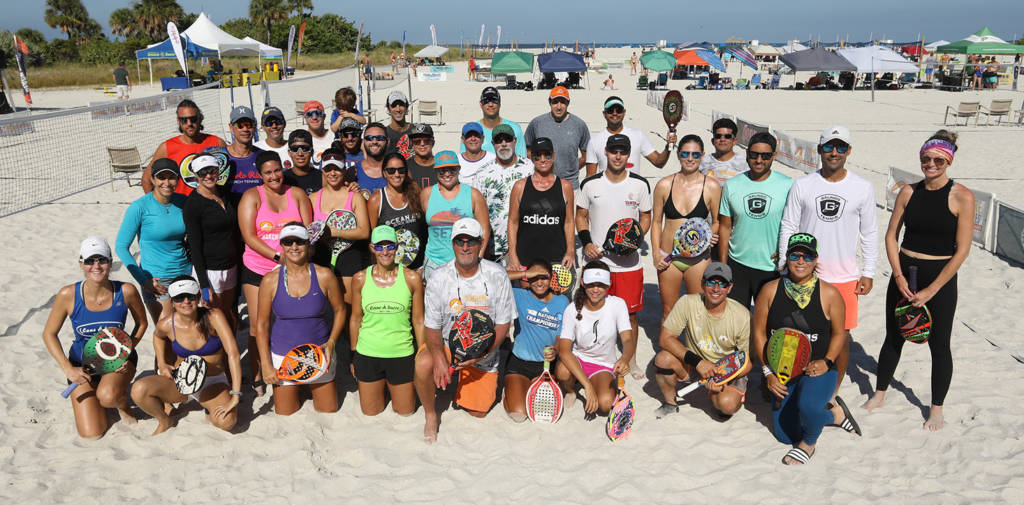 TALLAHASSEE, Fla. – A perfect sports and tourism partnership happens each fall at the Sunshine State Games International Beach Festival on Clearwater Beach.
Since 2015, the Florida Sports Foundation has partnered with Visit St. Pete/Clearwater and the Sheraton Sand Key to present an Olympic-style Sports Festival for athletes of all ages.
The annual three-day festival offers a variety of sports contested on the beautiful white sands of Clearwater Beach with the clear, shallow water of the Gulf of Mexico as a backdrop.
All but one of the seven sports contested at the 2019 International Beach Games was held in the backyard of the Sheraton Sand Key, on a 13-acre private beach area.
The sports bring a diverse collection of athletes to compete in Beach Tennis, Beach Volleyball, Beach Ultimate, Ultra Heavy Weight Throw, Scottish Highland Games, Bag Toss and Powerlifting.
Even though it is an expansive beach, beach volleyball players wander over to watch the talents of the beach tennis players. Ultimate teams waiting for their next game can watch fellow athletes throw objects weighing from 25 to 300 pounds.  The day after their heavy weight throws competitions, athletes have the opportunity to try something completely different in the Scottish Highland Games.
One of the most successful athletes over the last three years is Italian born, now living in Delray Beach, Beach Tennis player Matteo Goddio.  He has totaled five gold and three silver medals, playing Men's Singles, Men's Doubles and Mixed Doubles, since 2017.  The Beach Tennis competition spans three days, and Godio is one of the few players who is one the court for three days at the Sheraton Sand Key.
Godio's determination was tested in 2018 after taking a hit on the forehead from his partner's paddle during a follow through from returning a shot.  After taking a break to treat a laceration, Godio returned to the sand court to win a gold medal in Men's Doubles and returned for Mixed Doubles on Sunday.
The Beach Games draws top-ranked Beach Tennis players from around the world. The wide-open space, for as many as 12 courts, offered by the Clearwater Beach location, is a big draw for the top players in the game, according to Sport Director Steve Culver.
While Gulf Beaches are not generally known as a place to throw heavy objects, Jim Griffin, a track and field throws coach from Fort Lauderdale, calls the experience of Madi Malone, the reason State Games around the country exist.
Following a performance at the 2016 Beach Games Under 19 Weight Throw – Florida Championships, which had been certified as a USATF-sanctioned event, Malone earned a qualifying performance the New Balance Invitational Meet, in New York City.
Her performance there was noticed by an Auburn University coach, and she was offered a full athletic scholarship. Malone has continued her success, at Auburn, and was named the 2019 SEC Outdoor Female Freshman Field Athlete of the Year. She is also the women's Hammer Throw record holder. She was also named the 2018 Sunshine State Games Female Athlete of the Year.
If throwing weights from a platform wasn't enough, how about tossing weighted burlap sacks with a pitchfork over an elevated bar, or trying to flip an 18-20 foot tree trunk, in what may be the world's only Scottish Highland Games held on the beach.
At the 2019 Games, the mother and daughter duo of Jo Parker and Madalyn Moore, from St. Augustine, competed together after National Daughter's Day was celebrated the Wednesday, prior to the event. Madalyn, now 17, saw a Highland Games competition at age 13 and wanted to become involved.  Jo was informed a parent would have to compete as well.
"It was her idea from the beginning," said Jo Parker. "Now it's a passion for both of us.  We travel all over the state and have been to Games in Georgia and South Carolina.  I even got certified to be an official and went to Minnesota to judge in the World Highland Games."
Both competing in the Women's Open Division, Madalyn finished fourth while Jo placed seventh.
On the other side of the hotel from the beach, sounds of clanking barbells, weights added to the bar and an enthusiastic crowd, is heard by Sand Key hotel guests walking through the halls.
As an University of South Florida graduate student who deadlifts 700 pounds and volunteers his medical school talents, Steven Zhao won a Powerlifting gold medal in the 125kg Junior Division (20-23 years old).  Between the bench press, squat and deadlift, Zhao combined to lift 717.5kg (1,584 lbs.).  While the powerlifting total is very impressive, it's merely something to occupy his spare time while studying for a master's degree in Public Health.
His long-term goal in life is to work with people with health disparities and low-income residents of the community. He served an internship with the Timothy Initiative in 2018, "helping addicts get their lives back together."
He wants to go to medical school after his graduate work is complete to become a family practitioner to work with members of the community without insurance, or insurance of lesser quality.
"In the sport of powerlifting I see a lot of people in need of services like this," Zhao said.  "There are blue collar workers who get hurt and need surgery and have difficulty paying for it.  Also, things like working with people with diabetes who don't really need medication but just need to learn how to change their lifestyle to control their condition."
For a sport that has its own spirit of the game, both in attitude, and an actual award, given to a team showing sportsmanship, Ultimate teams showcase athleticism running up and down the field.  Their accuracy is also on display, flinging a disc from one end of the field to another, to an open teammate, for a scoring play.
While the competition is taken seriously, it's a group who will also take a time out to break into a group dance.  At any given time, play may come to a halt, when the DJ, playing music from a Hummer-based stereo system, parked in the middle of the 13-acre beach, blares music to their liking.
Between the quality of athletes competing and the setup of the competition areas at the Sheraton Sand Key on Clearwater Beach, the partnership between the host hotel, Visit St. Pete/Clearwater and the Florida Sports Foundation, continues this annual spectacle.
It's just another day on the beach!