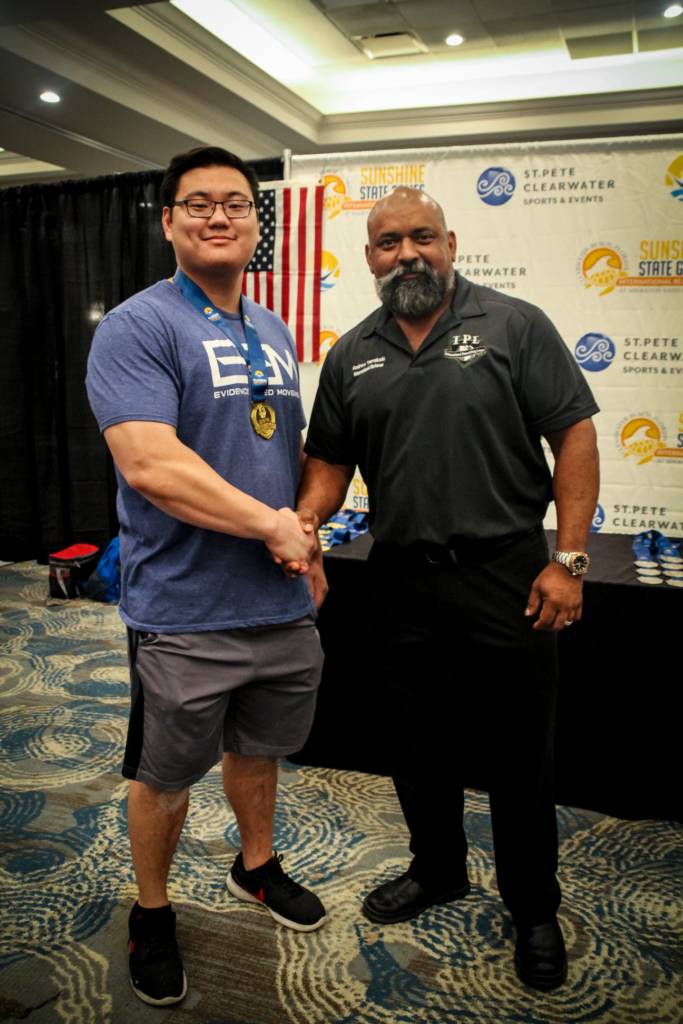 TALLAHASSEE, Fla. – Walking into the Sunshine State Games International Beach Games Powerlifting competition at the Sheraton Sand Key Resort on Clearwater Beach provided a relief from the sun and temperatures in the 90s.
It also gave those who ventured in a completely different perspective.
Outdoors on the white sands of Clearwater Beach, the music of recent pop hits and dance music had the athletes and spectators bouncing with the rhythm of the beat. The packed-to-capacity powerlifting crowd got loud and rowdy as the lifters squatted, bench pressed, and deadlifted with power guitar chords of Metallica blaring from the speakers.
"We play energetic music, a rotation of rock and rap," said powerlifting sport director Richard Ficca. "It's something that gets people moving and their energy at a high level. It's edited to be family friendly.   Compared to what was played outside, it's pretty hard core but it's family friendly."
Beside the energy to lift 500 pounds, these athletes must be headstrong, as mentioned in a song playing during the competition.
"Back off, I'll take you on. Headstrong to take on anyone. I know that you are wrong. This is not where you belong," echoed the excerpt from Trapt's Headstrong.
Among those headstrong men and women who stepped up to the bar and lifted as much as three times their body weight, there was Stephen Zhao, a University of South Florida graduate student. But for as much of a headstrong attitude needed to be able to perform such feats of strength, Zhao has a humble and accommodating side.
Sure, he won a gold medal in the 125kg Junior Division (20-23 years old) with a combined lift of 717.5kg (translation: 556 lb. squat, 423 lb. bench press, 611 lb. deadlift).  While the powerlifting total is impressive, it's merely something to occupy his spare time while studying for a Master's Degree in Public Health.
Zhao's long-term goal in life is to work with people challenged by health disparities and low-income residents of the community. He served an internship with the Timothy Initiative in 2018, "helping addicts get their lives back together."
He wants to go to medical school after his graduate work is complete to become a family practitioner, to work with members of the community who do not have insurance, or insurance of lesser quality.
"In the sport of powerlifting, I see a lot of people in need of services like this," Zhao said. "There are blue collar workers who get hurt and need surgery and have difficulty paying for it.  Also things like working with people with diabetes who don't really need medication but just need to learn how to change their lifestyle to control their condition."
Zhao along with four other members of the USF Powerlifting team competed in the SSG International Beach Games.  For his over 500-pound squat, the barbell held four 25 kg plates the size and shape of an extra-large pizza.  Many of the athletes take a much more aggressive approach to the bar, not so much for the bespectacled Zhao.
He calmly moved under the bar with the 230 kgs. resting on his shoulders. He took a step back from the weight platform, looked straight ahead to the back of the room, and went down into a deep knee bend with 500 pounds on his shoulders.
As he began his lift, two spotters on each side of the bar and one behind him, moved into position should he falter during his attempt.
After achieving the depth of the squat, he came straight back up without losing his balance or showing any signs of distress that would have sent the trio of spotters into action.  The three white lights, declaring a successful lift, were illuminated, and Zhao returned behind the curtain with his coach and a large collection of other lifters preparing for their upcoming turn at the bar.
Following his performance of the weekend, Zhao returned to graduate school to take his turn at improving lives in the Tampa Bay area.
About the Sunshine State Games
The 40th Sunshine State Games are presented annually by the Florida Sports Foundation (FSF), the state's lead sports promotion and development organization, and a division of Enterprise Florida, Inc.  The Foundation works in conjunction with a variety of local sports industry partners to present the different competitions.  The Sunshine State Games, an annual amateur sports tradition in Florida, is part of the state's $57.4 billion sports industry that accounts for 580,000 jobs statewide. #PlayInFlorida