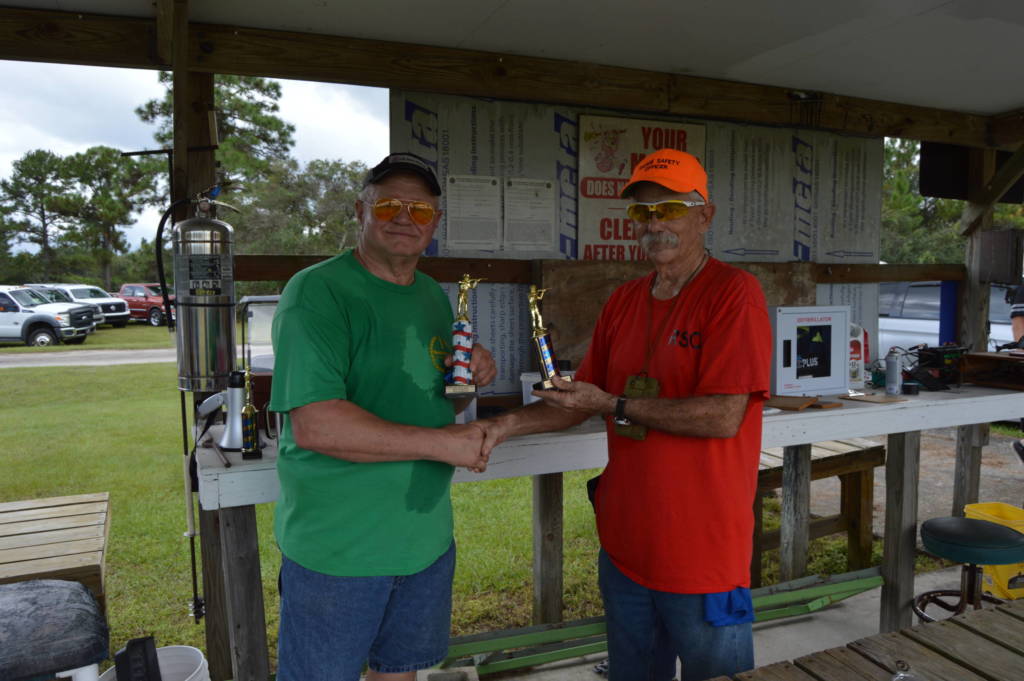 TALLAHASSEE — After taking 40 shots at targets in the likeness of chickens, pigs, turkeys and rams, three shooters were deadlocked in competition for the gold medal at the Smallbore Rifle Cowboy Silhouette event Saturday, October 10 at Seminole County Gun and Archery in Geneva.
Joe Lipp, from The Villages; Jorge Martinez, of Jacksonville; and Tim Wolfe, from Orlando, each totaled a score of 25, after shooting 10 shots at each of the four animals. In the Smallbore event, they used .22 caliber rifles, shooting from 25 to 100 meters (328 feet).
To determine the placements of the top three finishers, a shootout was held in a shoot until you miss competition.
In the first round, Lipp was the only one of the three to hit a turkey from 75 meters and was declared the gold medal winner, according to Bill Hyde, the event director for the Bigbore/Smallbore competition.
To award the silver and bronze medals, Wolfe and Martinez took five shots at chickens from 50 yards. Martinez hit four, to earn the silver medal, and Wolfe hit three for the bronze.
It was a come-from-behind effort on Lipp's part to win the gold.
Going into the fourth and final round of 10 shots, Martinez and Wolfe were tied for first with 20 points each. Lipp was in second with 17 points. In the final round, Lipp hit eight of the 10 targets while Martinez and Wolfe hit five of the 10, leading to the three-way tie.
Lipp, the only athlete to compete in the Bigbore and Smallbore event, won the Bigbore gold medal with a possible 34 points out of 40.
Sunshine State Games Sport Shooting events continue Saturday, October 31, with the United States Practice Shooting Association (USPSA) competition at the Volusia Hunt and Gun Club, in New Smyrna Beach. The USPSA event is one of the most popular Sunshine State Games sport shooting events with a maximum of 112 shooters able to compete.
The SSG Sport Shooting events conclude with the Precision Pistol Championships.  In this event, shooters will use pistols ranging from .22 to .45 caliber at Clearwater's Wyoming Antelope Club, on Sunday, November 1.
Shooters of all ages and skill levels are encouraged to compete and a variety of awards will be given to the top scorers in a number of different age groups.
Visit https://sunshinestategames.com/all-sports-schedule/ for competition and registration information about the upcoming events.  Pre-registration is encouraged but on-site registration will be available if the maximum number of slots are not filled on the competition day.