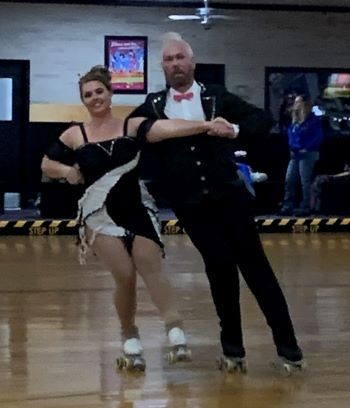 Sunshine State Games Artistic Roller Skaters Spin on Four Wheels

CLICK HERE for a photo gallery from the 2023 Artistic Roller Skating Championships
The 2023 Sunshine State Games Artistic Roller Skating music ranged from old school waltzes and polkas to new school Lady Gaga and Dua Lipa hits. The women were bedazzled with sequins and frills while the men were bedecked in tuxedos and three-piece suits.
The athletes on the floor ranged from four years old in the Tiny Tots division to a 91-year old skater, who was in his first competition in six years.
The Figures events began Mother's Day, May 14, at 7:00 a.m. with skaters navigating circles while attempting to keep the lines of the circles between the wheels of their skates. Judges trailed the skaters on the floor examining the accuracy of how well they straddled the line as well as the precision of their turns and one-legged skating.
By the end of the day, nearing 5:00 p.m., skaters were taking full strides, across the 185 X 85 foot floor of the Semoran Skateway and adding jumps and spins into freestyle routines.
After completing the Tiny Tot Figures competition, four-year old Victoria Murphy, was greeted with hugs, while she exclaimed, "I did it."
"She took her first big-girl fall last week," said her mother and coach of the Astro Skate Club Orlando, Megan Murphy. "I wasn't sure she was going to be able to make it today."
Charles Geiger, of Astro Skate – Pinellas Park, at 91-years old, took to the floor wearing a black tuxedo with blue accents, for the first time in six years. He began skating competitively at the age of 80 and was a regular in competitions for five years, until his wife passed away six years ago.
The Sunshine State Game is the first time back in the tux and skates in six years.
"Without the Sunshine State Games, I wouldn't be out here," said Geiger, who changed into a different tuxedo for his Pairs Skating event. "There's not a lot of pressure and I'm having fun. My doctor recommends this. It's what's keeping me going."
The Creative Solo Dance Routines brought out a variety of costumes and music. Nicole Anderson of Astro Skate Orlando, skated to "Welcome to Burlesque," sung by Cher from the Burlesque movie. Dressed in a captain's hat and tails, Anderson was "trying to get the Cher vibe."
"My coach told me if I was going to skate to that music, I had to get into it," Anderson said. "Be the person."
Following Anderson was Annmarie Connor, also from Astro Skate Club Orlando," who donned a flight jacket and aviator sunglasses while skating to Lady Gaga's "Hold My Hand," from the Top Gun Maverick movie.
Besides the solo events, Pairs Skating takes a combined effort of both skaters as they make their way across the rink to the music. Jeffrey Harger and Jacquelene Gordon-Clayton, of the Astro Skate – Pinellas Park, were silver-medal winners in the Silver Division 2 Team Dance Final.
"We're thinking of 10,000 things while we're skating and hope one of them works out," Harger said. "We're glued together to stay as one. There's a lot of tug and pull that no one sees. It's very subtle."
Like many Sunshine State Games events, it was also a family affair for the Folstein family on two continents. Toni and Steve Folstein and their children, Sean, Sara and Emma are long-time skaters, coaches and administrators for the Central Florida Figure Skating Club, located at the Semoran Skateway.
While 10-year old Emma skated in four events, Toni, Steve and Sara were doing behind-the-scenes work that included late-Saturday night setup, technical work to make sure the skater's music was played properly, scores tabulated properly and snack bar sales.
Meanwhile, 17-year old Sean, a multiple-times Sunshine State Games gold medalist, was skating at the World Skate Artistic International Series in Paraguay, in solos competition, along with a pairs event with Gabrielle Eskew. Family members and friends watched the pairs performance on cell phones via World Skate TV at 4:00 p.m. during competition.
The family's connection to the Semoran Skateway goes back to when Toni was an 11-year old skater being coached by current Skateway owner Tony Berger.
"When he bought this rink, we moved from Palm Bay, where he coached and we lived, to Orlando to help him run the rink," Folstein said.
Whether it was happening at a statewide competition in Casselberry, Florida or an International event in Paraguay, the wheels of the skates rolled on.
The 2023 Sunshine State Games continues next weekend with the Figure Skating Championships, at the Florida Panthers IceDen in Coral Springs, and the Sunshine Summer Lacrosse Kickoff in Wellington. Over 400 skaters will be on the ice from Friday through Sunday in Coral Springs and more than 80 teams will be on the field in Palm Beach County.
Registration continues for Sunshine State Games events in June in Alachua, Charlotte, Polk and Orange County. Visit www.sunshinestategames.com for competition and registration information.
The Sunshine State Games is an annual Olympic-style Sports Festival for amateur athletes of all ages. Now in its 44th year, dating back to 1980, the Sunshine State Games is the longest continuously-running State Games in the U.S. The 2023 Sunshine State Game is held in conjunction with the Gainesville Sports Commission, Central Florida's Polk County Sports Marketing, Visit Lauderdale, Punta Gorda/Englewood Beach Visitor & Convention Bureau (VCB) and Earl Enterprises.