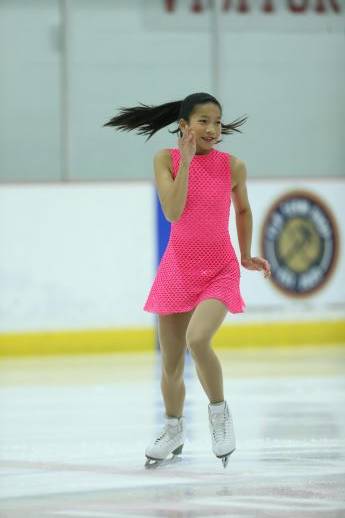 Sunshine State Games Figure Skaters Add to Family Successes on Friday

While the temperature reached above 90 degrees in Coral Springs on Friday, it was a brisk 55 degrees or so in the Florida Panthers IceDen for the 2023 Sunshine State Games Figure Skating Championships. Most agreed it was even more brisk on the floor at ice level, with many wearing heavy jackets and scarves.
Among those on the ice Friday was the 2022 Elizabeth "Betty" Stark Award winner, Veronica Carhart (pictured at right), of the Everblades Figure Skating Club. Since earning the award last May, Carhart has been following quite a busy schedule. She traveled to Lake Placid, New York, Dallas, Texas and the Eastern Sectionals in Massachusetts. She also competed in the Orange Blossom Open in Clearwater.
While she admits she had some "rough skates," she also had performances where she achieved personal bests. She finished in the Top 24 of the Juvenile Women's Free Skate at the Eastern Sectionals, which was an accomplishment for her.
She earned a Sunshine State Games bronze medal in Group B of the Intermediate Ladies Free Skate Friday afternoon, with the fifth best score of 29 skaters. She returns to the ice on Saturday for the Intermediate Ladies Short Program.
During her performances, Carhart is outfitted in costumes by one of her three figure skating sisters. Her oldest sister, Adrian, now 21, is talented on and off the rink. She skates for the Azerbaijan National Team, competing in Mixed Ice Dancing events.
Her 18-year old sister, Helena, recently represented the U.S. at the ISU World Junior Figure Skating Championships 2023 in Calgary, Alberta. She and her Ice Dance partner Volodymyr Horovyi were ninth place finishers.
Finally, her 10-year old sister, Marion, competed in Pairs Ice Dancing at the 2023 Eastern Sectionals, in Norwood, Massachusetts.
Veronica's mother, Sabrina, accompanied her to the Sunshine State Games in Coral Springs and admitted she held all the "glamorous jobs," in the success of her four daughters figure skating careers.
"I do all of the laundry, shopping, cooking and driving," she said. "I shop a lot. It's a big help that Adrian does the costumes for Veronica."
With the Sunshine State Games being held at the Florida Panthers IceDen, it's no surprise there's a connection between the Games and the Stanley Cup Playoffs. Nine-year old Isabella Hornqvist, of the Panthers Figure Skating Club, is the daughter of 15-year NHL veteran and current Panthers player Patric Hornqvist.
Isabella earned a gold medal in the Spins High Beginner event on Friday and is skating in four events over the weekend. Her five-year old sister, Vendela, will be skating in two events on Sunday.
Unlike her father, she was not up until nearly 2:00 a.m., watching the Panthers 4-overtime win in Game One of the Eastern Conference Finals
"Oh, no," she exclaimed. "I did not stay up to watch the game. I knew I needed to be here skating at 9:00 a.m."
Sunshine State Games Figure Skating continues Saturday with 64 events between 8:30 a.m. and 8:45 p.m. For a complete listing of events and results, visit 35th Florida State Games Figure Skating Championships (usfigureskating.org).
Taking the field at the Village Park Athletics Complex, in Wellington, are 98 Boy's and Girl's Lacrosse teams, ranging from 8 and under to High School Divisions, in the Sunshine Summer Kickoff Classic. Games begin at 8:00 a.m. and the final game of the day begins at 5:20 p.m.
Visit www.sunshineeventsgroup.com/summerkickoffschedule for the schedule and results.
The Sunshine State Games is an annual Olympic-style Sports Festival for amateur athletes of all ages. Now in its 44th year, dating back to 1980, the Sunshine State Games is the longest continuously-running State Games in the U.S. The 2023 Sunshine State Game is held in conjunction with the Gainesville Sports Commission, Central Florida's Polk County Sports Marketing, Visit Lauderdale, Punta Gorda/Englewood Beach Visitor & Convention Bureau (VCB) and Earl Enterprises.
Registration continues for Sunshine State Games events in June in Alachua, Charlotte, Polk and Orange County. Visit the individual sports pages of this website for competition and registration information.