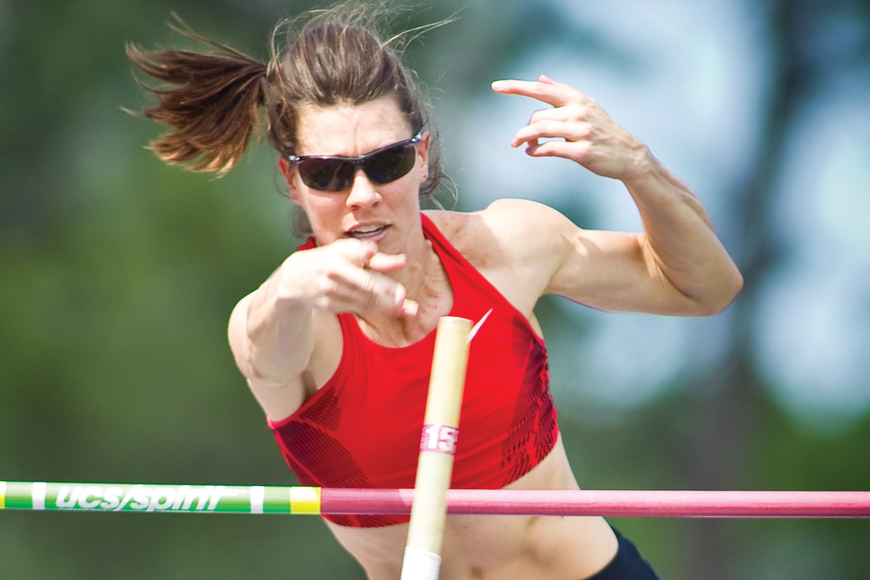 TALLAHASSEE — As the 2000 Sunshine State Games were being held in Gainesville in early June, Olympic fever was sweeping across the nation.
Four years earlier, the XXVI Olympiad was held in Atlanta, Georgia and the 2000 Olympic Games were set to begin three months later in Sydney, Australia.  The U.S. Olympic team was comprised of 586 athletes, including quite a few from Florida.
University of Florida swimmer Dara Torres and baseball team member Brad Wilkerson were representing the U.S. Tampa's Brooke Bennett was also on the U.S. swim team and Orlando's Dot Richardson was on the softball team.  Gainesville's own Jearl Miles Clark was making the trip "down under," with the track and field team and Tallahassee's Ato Hand and Brian Olsen had a big sendoff at the Florida Capitol.
On Saturday, July 8, 17-year old Lacy Janson, from Cardinal Mooney High School in Sarasota, was honing her pole vaulting skills at the Percy Beard Track en route to a gold medal after a 10 foot, six inch vault.
12 years and three Olympic Games later, in early August, 2012, Janson was on the field at London's Olympic Stadium as a member of the U.S. Olympic Track and Field team.
Her top score, a vault of 14 feet, five inches, did not qualify for a performance in the finals and she finished 15th in a field of 30 athletes from around the world.  However, in the 12 years between her competition in Gainesville to the top of the world's stage in London, she accomplished quite a bit.
Pole vaulting was not her first choice of sports at Cardinal Mooney High School.  She was a member of the school's highly competitive volleyball team.  Standing five feet, 10 inches, she was a vital member of the team.
"You could definitely see potential," Cardinal Mooney Track and Field Coach John Raleigh said in a 2012 Sarasota Herald-Tribune article. "She was one of those superior athletes. She caught my eye. She was a premier volleyball player and I felt she could have a future in pole vaulting if she wanted it."
During her junior year, she made her first jump at a local meet and cleared eight feet, six inches. She kept working at it and by the end of her senior year, she was the 2001 high school national champion and set a Florida high school record at 13 feet, 1.5 inches.  After graduation, she was a gold-medal winner at the 2001 Junior Pan American Games in Argentina.
Her success continued at Florida State University, where she set the women's outdoor pole vault record with a vault of 15 feet, 0.25 inches and the indoor record at 14 feet, nine inches. Both records were set in her senior season of 2006, and still stand.  At that time, she was one of only two women in NCAA history to clear 15 feet. She earned numerous All-America and All-ACC honors.
Other athletes from the 2000 Sunshine State Games that went on to bigger and better things include Darius Washington, a basketball player from Edgewater High School, in Orlando.  Washington played for the Junior Varsity Division silver medal winning team, the SOYSA Hoopsters and in four games, Washington totaled 86 points.
A member of the 2004 Edgewater HS Class 6A State Champion team, he played two years with the Memphis Tigers where he was voted Conference USA Rookie of the Year and received freshman All-American honors. The next year, he helped Memphis make a run to the Elite Eight in the 2006 NCAA Tournament.
Undrafted in the 2006 NBA Draft and following a brief stint with the San Antonio Spurs, Washington spent the bulk of his career playing overseas, including with the Macedonian national team after receiving dual citizenship.
Competing in Sport Twirling at Vanguard High School, in Ocala, seven-year old Lacey Morgan, of Lady Lake won three gold medals.  Her performances set the stage for future beauty pageant competitions where she won the titles of Teen Miss Leesburg in 2010 and Miss Teen United States in 2012.  The 2011 Leesburg High School graduate was also the third runner up in the 2014 Miss Florida USA Pageant and is now a registered nurse.
She credits the scholarship money she earned in the pageants for her degree in nursing from Lake Sumter State College.
Al Treichel's six gold medals in the Master's Track and Field competition set the stage for an even more impressive performance in the 2000 Florida Senior Games in December.  Competing in the 70-74 age group in cycling, the 5 and 10K Road Races, Mixed Doubles Tennis with his wife and running events of Track and Field, Treichel totaled eight medals (7 gold, 1 silver) and was named the 2000 Florida Senior Games Male Athlete of the Year.

For more than 40 years, competition in the Sunshine State Games has proven to be a stepping stone to future successes for athletes age seven to 70.