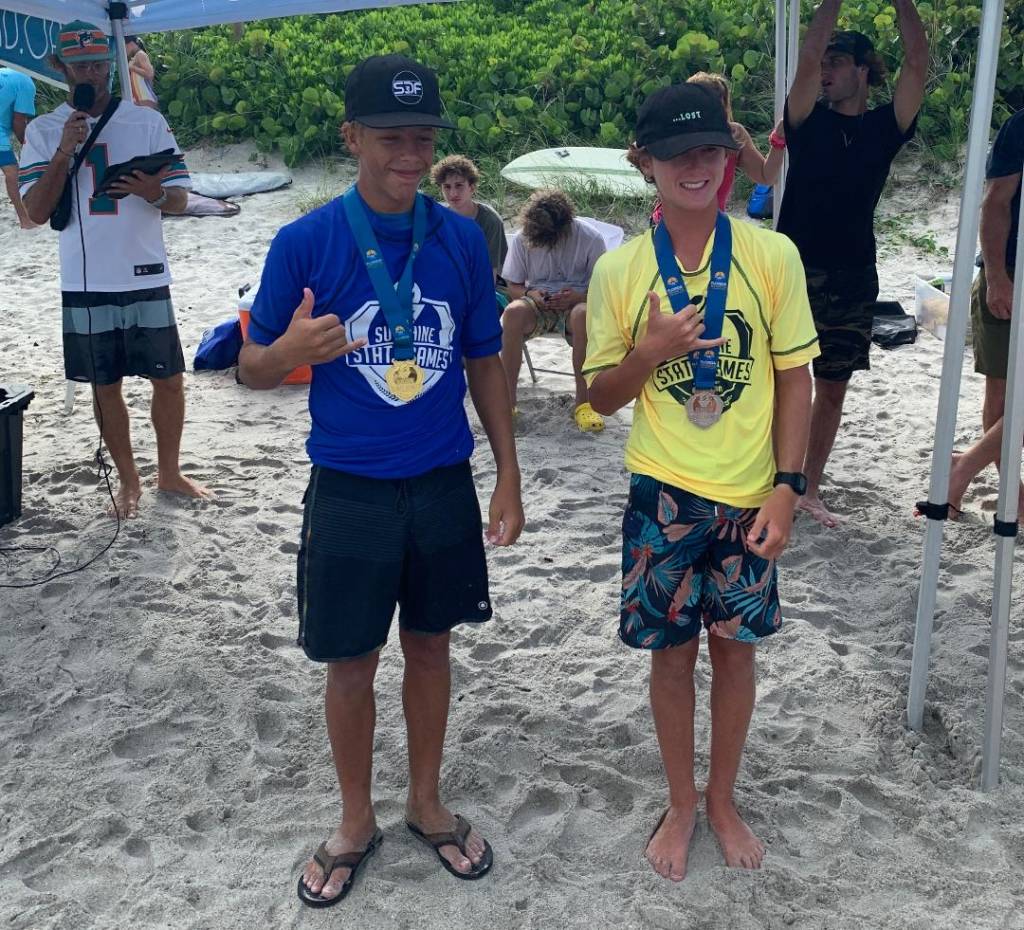 Sunshine State Games International Beach Games on the Water and in the sand in Brevard County
The 2022 Sunshine State Games, presented by Amazon, International Beach Games had all of the elements needed for the events contested, even though some weren't on the beach.
Brevard County provided plenty of water for Surfing, Stand Up Paddleboard and an Open Water Swim. There was also plenty of white beach sand for Beach Volleyball.
Paddlers Paradise hosted the Stand Up Paddleboard competition and Beach Volleyball was played on six courts at Satellite High School.
The action concluded Sunday afternoon at Pelican Beach Park with the amateur Men's Open Division. In the water until the very end was Mako Musilunas, of Myrtle Beach (pictured on left in photo). In winning a gold, silver and bronze medal on Sunday, Musilunas was in the water for nine, 20-minute heats, a total of 180 minutes (3 hours).
During the awards presentation, where Mako's name was frequently called, PA announcer Mason Sapp claimed, "If we had an Ironman Award, you would win it. I guess we need to create one after what you did today."
Musilunas won the 14 and under gold medal, a silver in the 18 and under division and the bronze in the Men's Open Division. He also surfed on Saturday in the Junior Pro Division. A tournament surfer since the age of four, Mako is a three-time Eastern Surf Association (ESA) All Star. During today's competition, he was looking for "south facing swells with a clean face and no white water."
"Waves like that give me an angle to do plenty of turns, snaps and carves," he said.
While the waves of the Atlantic Ocean provided an excellent venue for the Professional and Amateur surfers on Saturday and Sunday. Those waves, due to the remnants of Hurricane Fiona, were a bit too much for the Open Water Swim event was moved to Rotary Park on the Indian River Lagoon.
More than 40 swimmers ventured the 1-Mile triangular shaped course on the Indian River Lagoon to start the day Sunday morning, at 8:00 a.m. Brett Saunders, of Tampa, emerged from the Lagoon 21 minutes and 42 seconds later, as the first overall finisher. Saunders, who swam for the University of Tampa, is now a professional triathlete.
The top two women's finishers were local swimmers, Lauren Helton, Merritt Island, who completed the one-mile course in 26:58, and Taylor Stallings-Pinnick, of Indialantic, with a time of 28:00.
Stallings-Pinnick was taking a break from her usual marathon open water swimming in today's event. She swam the 8-Mile Swim for the Alligator Lighthouse, in Islamorada, on September 10, and finished third overall with a time of 4:29:40, about four more hours than her time in the water today.
She also swam in a 12.5 mile Swim Around Key West with a relay team, where she, "literally swam around the island for about five hours."
Stallings-Pinnick was a high school swimmer at Satellite High School and at West Virginia University, from 2005-09, where she was a sprinter and middle-distance swimmer. She now swims with the Swim Melbourne Mahi Masters Club.
Samantha Crosby and Ellie Neville returned to the sand courts at Satellite High School Sunday and won their second gold medal of the weekend. On Saturday, the pair won the six-team Women's AAA Division. On Sunday, Crosby and Neville won the 10-team, Junior Girls 18 and under division, topping Cypress Reineke and Ava Lilliquest, 21-19, in the championship match.
Over the course of both days, Crosby and Neville were undefeated in 10 matches, winning four Saturday and six Sunday.
On Saturday's Stand Up Paddleboard races, with paddlers making runs of a ¼ mile course, Katniss Paris, was the top overall women's finisher with a total time of 13:33.4 (6:47.4 and 6:45.9). Her combined times were 1:12 faster than the second-place finisher and she was the only female paddler to record times of less than seven minutes on the course. The top male finisher was Kevin Woodlin, with a total time of 13:07.1 (6:35.01 and 6:32.0). He finished 12.1 seconds ahead of the second place finisher.
Over 300 athletes competed in the four sports of the 2022 Sunshine State Games, presented by Amazon, International Beach Games. Visit www.sunshinestategames.com/results for all results from the 2022 SSG International Beach Games.