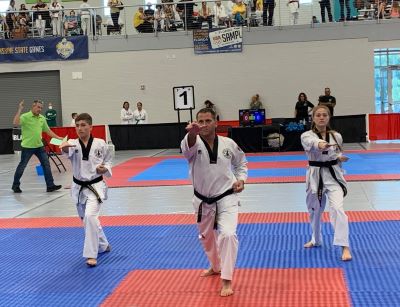 Sunshine State Games Martial Arts Takes Center Stage in Polk County
It was a two for one special of Martial Arts at the AdventHealth Field House in Winter Haven Saturday for the 2022 Sunshine State Games, presented by Amazon.
Over 400 athletes were in action competing in Judo and Taekwondo on six taekwondo mats and two judo mats. Judo offered Kata (Forms) and Shiai (Sparring) events and Taekwondo featured Poomsae (Forms), Goypka (Breaking) Weapons and Gyoroogi (Sparring) competition.
In a Sunshine State Games Taekwondo first, Family Poomsae competition was offered and seven families took advantage of the opportunity on Father's Day Weekend.
"I was looking at how our event matched up with Father's Day Weekend and kids want to do something special with their dads," said Taekwondo Sport Director, Master James White. "That's what Father's Day is all about, doing something with your family. People are talking about next year that didn't participate this year."
Three medal winning families in the World Class Black Belt Division agreed with White's sentiments as two fathers competed with their children.
"This is my Father's Day present," said Anthony Perri, of St. Petersburg (middle in photo), who competed with his daughter Savannah and son, Aiden. "There's no need for them to do anything else for me."
Also taking advantage of the father and sons opportunity was Eric Glinsboeckel, also of St. Petersburg, along with his sons, Ethan and Julian. The Glinsboeckel's were bronze medalists. Robert Young and his daughter Courteney, and son Billy, competed in the Open Color Division, where black belt athletes could pair with other belt color athletes.
The 2022 Most Outstanding Taekwondo School Award went to Ferkile's Taekwondo, in St. Petersburg. Ferkile's Taekwondo earned the award for winning the most gold medals in Junior Division Forms, Breaking and Sparring events.
Taekwondo continues Sunday with Black Belt only Forms and Sparring Events, beginning at 10:00 a.m. at the AdventHealth Field House.
On the other end of the AdventHealth FieldHouse, Judo legacies continued and others were created as the annual Junior and Senior Outstanding Male and Female Athletes were awarded.
Earning the Junior Most Outstanding Female was Amaris Bell, of Pembroke Pines, and a member of Budokan Judo. The Most Outstanding Male in the Junior Division was Kevin Garcia, a member of the Mambi Judo Club in Tampa.
The Most Outstanding Senior Female was Mackenzie McPherson, of Miramar, also a member of Budokan Judo. The Male Most Outstanding Athlete was Chris Cecere, of Venice, a member of Gator Tens for Life (GTFL) Judo.
The criteria for the Most Outstanding Athlete Awards include "clean technique and most wins and ippons (a clean throw of an opponent landing flat on their backs), "according to Hector Estavez, the Chief Referee.
On hand assisting his father, the Judo Sport Director, Ricardo Menendez, was former Sunshine State Games Most Outstanding Athlete, now 24-year old Alejandro Menendez. Alejandro was onsite creating competition pools, serving at the official's table and coaching members of the Falcon Judo Team.
In 2016, 19-year old Alejandro was named the Outstanding Senior Male Judoka after winning four matches en route to the gold medal in the Men's Shiai Advanced division, 60.1kg-66kg weight class. At that time he had competed in two Pan American Judo Championships and the Jr. World Judo Championships. Upon his graduation from South Miami Senior High School, Menendez was invited to compete in Japan and has since traveled to compete in Abu Dhabi, France, Brazil and many other countries.
"I love to compete and have been in judo since I was four years old, Menendez said. "But I enjoy using my platform to help others advance in the sport of Judo."
At the Cleveland Heights Golf Course, the low score of the day was turned in by Robert Mackey, of Tampa, with a 73, to win the 70-74 age group gold medal. But the star of the day was 92-year old Dick Cheney, of Winter Haven, who was presented with he 2021 Sunshine State Games Male Athlete of the Year Award.
In winning the 2021 Gold Medal in the 90+ age group, Cheney became the first 90-year old athlete to compete in the 42 year history of the Sunshine State Games. His performance earned him a qualification to the 2021 Florida Senior Games, where he won another gold medal, with a 9-hole score of 47.
Cheney and 27 other golfers endured 18 holes at Cleveland Heights Golf Course in the well above 90 degree temperatures, before an afternoon thunderstorm rolled in. The low women's score went to Kathey Milligan, of Bartow, with an 86.
Table Tennis at the Simpson Park Community Center, in Lakeland, featured eight different skill level competitions Saturday. Winning two medals each in the two highest skill levels Saturday was the gold medalist in the U2500 Division, Aroon Klunthong, of Tampa. Klunthong was a bronze medalist in the U2200 Division. Steven Eliass, of Oviedo, won a silver medal in the U2200 Division and a bronze in the U2500 Division.
Table Tennis athletes return to the Simpson Park Community Center on Sunday for seven skill level divisions, including the Open Singles Division, the most competitive of all divisions, with 14 players in action.
The Sunshine State Games, presented by Amazon, are an annual presentation of the Florida Sports Foundation, the official sports promotion and development organization of the State of Florida. The Games are held in conjunction with local partners that include, Central Florida's Polk County Sports Marketing, Clay County Tourism, the Gainesville Sports Commission and Visit Lauderdale. Now in its 43rd year, the Sunshine State Games are the longest continuously-running State Games in the U.S.