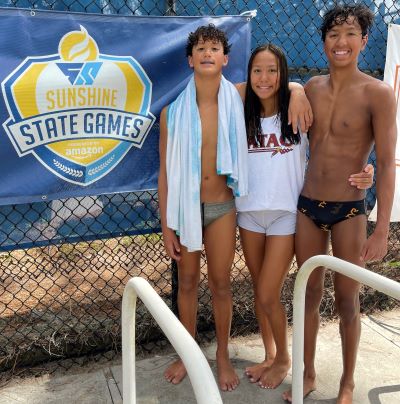 Sunshine State Games Provides Family Travel Opportunity for Tallahassee Swimmers
Peruse the Sunshine State Games, presented by Amazon, results of the last 42 years and you'll find a lot of the same last names. Over the last four decades, Florida's annual Olympic-style Sports Festival for athletes of all ages has provided an opportunity for a summer family outing.
In 2022, you can count the Ekk family, from Tallahassee, to that long list.
For this weekend's Sunshine State Games Swimming Championships, at the Dwight H. Hunter Northeast Pool, in Gainesville, Dennis and Elizabeth Ekk, packed up the family vehicle for their three children to compete with the Area Tallahassee Aquatic Club (ATAC).
Through Saturday, it has been a successful road trip for Bella, Ethan and Owen Ekk.  It's a road trip the family has taken since 2017.
Bella Ekk (middle in photo) is a 16 year old Junior to be at Tallahassee's Chiles High School.  Ethan Ekk (right in photo) is a 15-year old sophomore to be at Chiles and Owen Ekk (left in photo) is a 13-year old middle school student at Deer Lake Middle School.  Through Saturday, the Ekks have won 15 gold medals in the 16 events they swam.
"We just try to feed and water them," said their mother, Elizabeth Ekk. "They pretty self-motivated."
While the Ekks not compete in the 2021 Sunshine State Games, in 2019, they combined to win 16 gold medals in 22 events they registered to swim.
Even in winning three gold medals in three Saturday events, Ethan Ekk admitted his times in two events were a couple of seconds off of his best times.
"I wasn't prepared and not in the right mind set," said Ethan. "Our coaches put us through some hard practices leading up to this weekend and I was tired."
While Bella still has two years of high school ahead of her and Ethan has three, they are already looking ahead to what's next in their swimming careers.
Being the oldest, Bella has begun to think about what lies ahead for her in and out of the pool.
"I'd like to make it to a college to swim," she said. "But at this point I have no idea where that might be."
Their ATAC coach, Terry Maul, was the head coach of at Florida State University from 1975 to 1993  is a key to their success, Elizabeth Ekk admits.
"He knows the system and he knows the kids," she said. "He approached us several years ago about them swimming full time, but we weren't ready. Now we're a full-time swimming family."
 While they keep a 24-hour week schedule of swimming practices, the three Ekks don't shun their studies as all keep 4.0 and higher grade point averages, while staying grounded as a family.
"We have a lake house on Lake Compass west of Tallahassee and they are able to play all kinds of water sports," said Elizabeth Ekk. "There's wakeboarding and sea-doos and other things to keep being in the water fun for them."
Before they all head back to school in August, there's a couple of meets on the horizon for Bella, Ethan and Owen.  The ATAC team hosts a meet in Tallahassee at the end of June and in July, the family will pack things up for a Futures Meet in Greensboro, North Carolina.
Like many families before them in the Sunshine State Games since 1980, the Ekk family is using the Games as a stepping-stone for further accomplishments.  They all have their eyes on swimming in college but there's also an eye on future Olympic Games.
It's been done before with Florida-based athletes like Nancy Hogshead-Makar and Ryan Lochte. Keep an eye on Bella, Ethan and Owen Ekk.
CLICK HERE for 2022 Sunshine State Games Swimming Championships Results
The Sunshine State Games, presented by Amazon, are an annual presentation of the Florida Sports Foundation, the official sports promotion and development organization of the State of Florida. The Games are held in conjunction with local partners that include, Central Florida's Polk County Sports Marketing, Clay County Tourism, the Gainesville Sports Commission and Visit Lauderdale. Now in its 43rd year, the Sunshine State Games are the longest continuously-running State Games in the U.S.