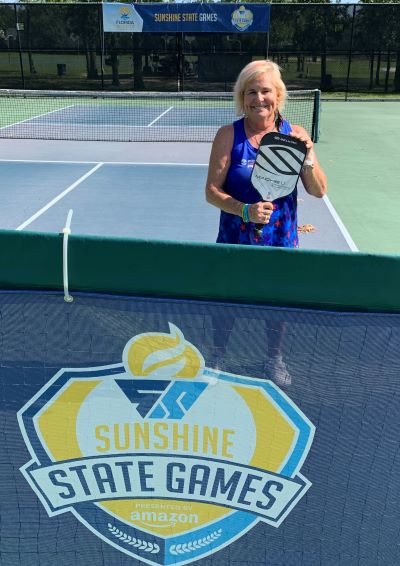 Sunshine State Games Provides New Opportunities for World Class Athlete and Coach
To find Teri Jordan playing Pickleball in the Sunshine State Games, presented by Amazon, in the remote Clay County location of Ronnie Van Zant Memorial Park, one would never know the journey taken to get to this point in her life.
Since moving to Bradenton in 2020, she has been a regular in the Florida Senior Games and Sunshine State Games playing Basketball, Pickleball and Table Tennis. She has competed in the 5K and 10K Time Trials Cycling events, thrown the discus, javelin and shot put at Track and Field meets and even played Cornhole in the 2022 National Senior Games.
Before her retirement, Teri Jordan was recognized by Penn State University as "one of the country's most outstanding pioneer women in track and field."
With June, 2022, being the 50th Anniversary of the passing of Title IX, giving equality and equity to women in sport, Jordan experienced athletics first hand in high school and college.
She ran with the boy's track and field team at Riley High School in Kansas until her Junior year. After a fourth-place finish in the Junior Olympics, the school created a girl's track and field team.
Even though she was offered a scholarship to a small school in Omaha, Nebraska, Jordan decided to stay close to home and run track at Kansas State University. She also chose her home state to further develop her skills under the tutelage of U.S. Track and Field and Cross Country Coaches Association Hall of Famer, DeLoss Dodds.
She was Kansas State's first woman to earn All-American status in track and field winning the AIAW national championship in the mile run in 1972. She had one of the best seasons in school history in 1976 winning the Big Eight Conference indoor 880, mile and two mile, also earning the outdoor title in the two mile that year. She also earned All-American honors in the two-mile run in 1976, finishing second in the nation.
"When he was inducted into the Hall of Fame, DeLoss Dodds said I was the best girl he ever coached," Jordan said.
Jordan was the Women's Head Track and Field Coach at Penn State University from 1984-99. From 1999-2019 she served as the Coordinator of Disability Programming and Assistant Coordinator of the Multi-Sport Complex on the Penn State campus.
She was inducted into the Kansas Sports Hall of Fame in 2002 and has traveled the world as an athlete and coach. Jordan reached the pinnacle of both at the 1976 Olympic Games, in Montreal as an athlete and the 2004 Olympic Games, in Athens, Greece as a coach of the Paralympic team.
"I'm very fortunate to have done the things I've done through athletics," Jordan said. "Not bad for a farm girl from Leonarville, Kansas, a town of 450 people. And that includes cats and dogs."
Now she's continuing her athletic career in both of Florida's Olympic-style Sports Festivals, the Florida Senior Games, as a 50 and over athlete, and the Sunshine State Games, "just for fun," she admits.
She won the 65-69 age group Women's Singles Pickleball gold medal Friday in Green Cove Springs and will compete in Women's Doubles on Saturday and Mixed Doubles on Sunday.
"I do it all for the glory to God," she said. "Whether it's through running, or taking advantage of these opportunities to provide fun, competition, or to make new friends. They are goal-oriented programs and I've set goals for myself to improve in Cycling and Pickleball to compete in the 2023 National Senior Games."
Jordan was inspired to continue her athletic career by her mother, who was a Senior Games athlete in Kansas, to get involved in the Florida Senior Games in 2020, when she retired and moved to Bradenton.
"She didn't get started until she was 66 years old and ran in the 100, 200 and 400 meters until she was 87," Jordan said of her mother. "She tried to get me involved once I turned 50 but I didn't want to admit I was 50 at the time."
Jordan's commitment to athletics was obvious Friday morning as she was the first athlete at Ronnie Van Zant Memorial Park ready to go more than an hour before women's singles matches started.
That commitment started at an early age for Jordan and has provided a lifetime of memories already. She has plenty of opportunities ahead of her through amateur sports opportunities like the Florida Senior Games and Sunshine State Games.
The 2022 Sunshine State Games, presented by Amazon, continues Saturday with five sports. Canoe/Kayak, Pickleball and Ultimate will be contested in Clay County, Archery in Alachua County and Water Skiing in Polk County.
The Sunshine State Games, presented by Amazon, are an annual presentation of the Florida Sports Foundation, the official sports promotion and development organization of the State of Florida. The Games are held in conjunction with local partners that include, Central Florida's Polk County Sports Marketing, Clay County Tourism, the Gainesville Sports Commission and Visit Lauderdale. Now in its 43rd year, the Sunshine State Games are the longest continuously-running State Games in the U.S.