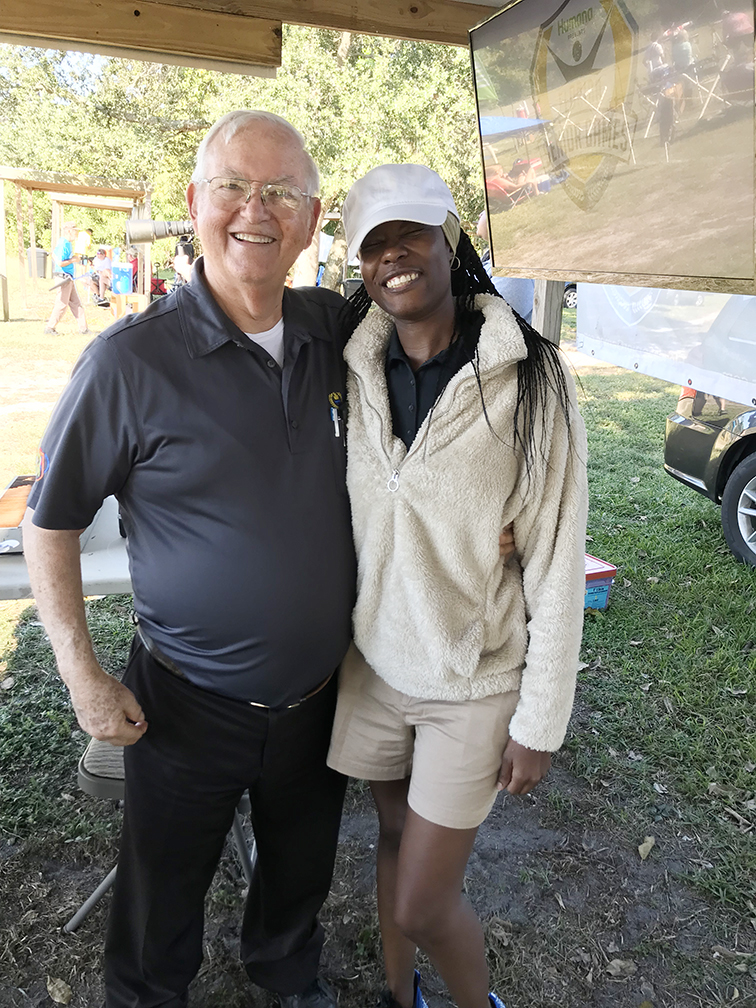 TALLAHASSEE, Fla. – As we head into the Labor Day Weekend, the Florida Sports Foundation extends its heartfelt thanks to its gold-medal winning team of Sunshine State Games Sport Directors.
The sport directors earn their distinction by being recognized as one of the top experts within their respective sport in the State of Florida. They work with the Sunshine State Games staff on a year-round basis to plan their annual completion. On gameday, they are in the gym, on the course, at the pool or on the field to direct the event to allow Florida's finest amateur athletes to excel.
Now in its 41st year, the Games have been fortunate to establish long-lasting relationships with the directors in certain sports. Of the current roster of more than 30 sports, 11 directors have served more than 10 years.
The group is led by the "Granddaddy of the Sunshine State Games," Tim Austin, of Gainesville, now in his 40th year as the Archery sport director.
Betty Stark, of Coral Springs, is in her 33rd year as the Figure Skating sport director and John Edwards, of St. Petersburg, completed his 32nd year as the Canoe/Kayak Sport Director.
Richard Lansky, of Bradenton, was the Weightlifting sport director for 20 years, serving through 2019, and the 2020 Karate Championships was the 20th year for Jason Sorgi, of Gainesville.
Five other sport directors have earned their 10+ year distinctions.  Here's the complete list:
Tim Austin, Gainesville, Archery sport director since 1981, 40 years
Betty Stark, Coral Springs, Figure Skating sport director since 1987, 33 years
John Edwards, St. Petersburg, Canoe/Kayak sport director since 1989, 32 years
Fred Hand, Tallahassee, Judo sports director from 1993-2018, 26 years
Richard Lansky, Bradenton, Weightlifting sport director from 2000-2019, 20 years
Jason Sorgi, Gainesville, Karate sport director since 2001, 20 years
Martyn Dennis, Winter Park, Rowing sport director since 2004, 17 years
David Hankerson, Casselberry, Artistic Roller-skating sport director since 2005, 16 years
Brad Woodington, Lakeland, Table Tennis sport director since 2007, 14 years
Master James White, Tampa, Taekwondo sport director since 2007, 14 years
Dave Zarco, Miami, Badminton sport director since 2008, 13 years
Lorraine Valerino, Lakeland, Synchronized Swimming sport director since 2010, 11 years
The trio of Austin, Brad Woodington and Dave Zarco also serve as the Florida Senior Games director for their sports.  Austin and Zarco are sport directors at the biennial National Senior Games.
Betty Stark's presence on the ice will be felt long after she hangs up her skates in her administrative role. The annual Betty Stark Award is presented to the Juvenile Division skater with the highest combined score in the Short Program and Free Skate events.
Several serve as coaches in their local community, as Stark coaches prospective Sunshine State Games athletes at Panthers Figure Skating Club in Coral Springs.  Lorraine Valerino coaches the Lakeland YMCA Flamingos Synchronized Swimming Club and Jason Sorgi is the founder and sensei at Katsu Dojo in Gainesville. Master James White, and his wife Deborah, who assists at the Sunshine State Games, are instructors at Master White's Taekwondo in Tampa.
Tim Austin sums up his sport director duties in a way shared by his counterparts, "I'm the first one to arrive and last to leave. I'm the one who takes the registrations online, from those who call me and through USA Archery. I get everyone checked in and record all of the scores. The draw for me is making it all happen along with the other officers."
The contributions to the Sunshine State Games are a labor of love for the sport directors and are greatly appreciated by athletes and their family and friends.  You all deserve a trip to the medal stand for a gold medal.