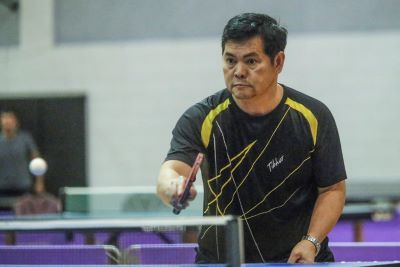 Sunshine State Games Table Tennis Athletes Earn Ranking Points at Polk County Festival
In the quick reaction, back and forth sport of Table Tennis, where a 1 ½ inch ball comes toward players across a nine-foot table, at speeds as high as 60 mpg, there's more to it than what goes on at the table. There's a behind the scenes numbers game going on, known mostly by athletes themselves.
It's a number that defines them and drives them to further achievements.
The 2022 Sunshine State Games, presented by Amazon, Table Tennis Championships featured 15 singles events with competition level divisions beginning at 1325 and advancing to 2500. Players earn points playing within their division or playing in higher level divisions.
"Lower rated players can play in any events above their rating," said Ray Spann, the SSG Tournament Certified Referee. "If a 1300 rated player beats a 2000 rated player, it will give them a significant jump in their rating. It seldom happens but it can."
Besides a jump in ratings, Spann said some athletes also want to have the experience of playing a higher rated player to see how they do leading players to venture into several different rating divisions.
It was a good weekend for Gerry Garcia (pictured above) and Juliana Milanov, two players ranked in the 1700s and lower, who registered to compete in skill level divisions higher than their ratings.
Garcia, from Orlando, with a 1710 rating, played in the U1800, U1875, U2100 and 50+ division. He won bronze medals in the U1800 and U2100 Divisions, beating two players with a higher rating in the U2100 Bracket. Wins against higher ranked players earn positive points toward a ranking, while losses against lower rated players decrease the rating.
"I haven't played in a tournament like this in a couple of years and I beat players higher than me," Garcia said excitedly.
Garcia defeated Maria Hennen, of Bradenton, who was ranked 55 points higher than him, to gain 13 points. A win over Conrad Fisher, of Palm Harbor with a ranking 17 points higher than Garcia, earned him 10 points. His two losses in the bracket were against higher rated opponents, so he didn't lose any points.
J uliana Milanov, of Winter Garden, entered to play in eight divisions to gain points and increase her rating of 1309.
She spent the better part of the last two days in the Simpson Park Community Center waiting for her name to be called for a match.
"it's a combination of improving your game and luck," she said. "The competition is fierce to begin with an there's other people besides me coming to improve their ratings. Yesterday was not fantastic. Today, I'm killing it. There are so many variables."
Her Sunday proclamation of "killing it," earned her the gold medal in the U1575 Division. She played in the U1800 Division and scored a win over a player with 1700+ rating.
With a rating of 2146, Aroon Klungthong, of Tampa, was the highest rated player in the weekend of Sunshine State Games Table Tennis. He was the gold medalist in the U2500 Division on Saturday.
The next highest division, U2300 was won by 13-year old Steven Eliass, of Oviedo. Eliass won a silver medal in the U2200 and the bronze in the U2500.
Fresh off this weekend's success, Eliass will compete in the US Table Tennis National Championships, in Fort Worth, Texas, July 2-7.
On the second of two days of Taekwondo at the AdventHealth Field House, Black Belt athletes took to the mats for Forms and Sparring events.
Forms Grand Champions were crowned in the 10-17 and 18+ age groups. The 10-17 year old Grand Champion was 12-year old Christopher Foulkes, of Fort Lauderdale. His gold medal winning performance also earned him a $200 scholarship for further training. The 18+ Grand Champion was Michael Bugarin, from Sebring.
The Sparring Grand Champion was won by 18-year old Benjamin Mach, of Pinellas Park.
For 2022 Sunshine State Games Results, please visit www.sunshinestategames.com/results
The 2022 Sunshine State Games, presented by Amazon, continues next weekend with the Water Polo Championships and 43 teams competing, June 24-26, in Broward County, along with Powerlifting, June 25. Registration is still open through June 22 for the Fencing Championships, in Alachua County, to be held June 25-26. For Fencing competition and registration information, please visit www.sunshinestategames.com/fencing
The Sunshine State Games, presented by Amazon, are an annual presentation of the Florida Sports Foundation, the official sports promotion and development organization of the State of Florida. The Games are held in conjunction with local partners that include, Central Florida's Polk County Sports Marketing, Clay County Tourism, the Gainesville Sports Commission and Visit Lauderdale. Now in its 43rd year, the Sunshine State Games are the longest continuously-running State Games in the U.S.