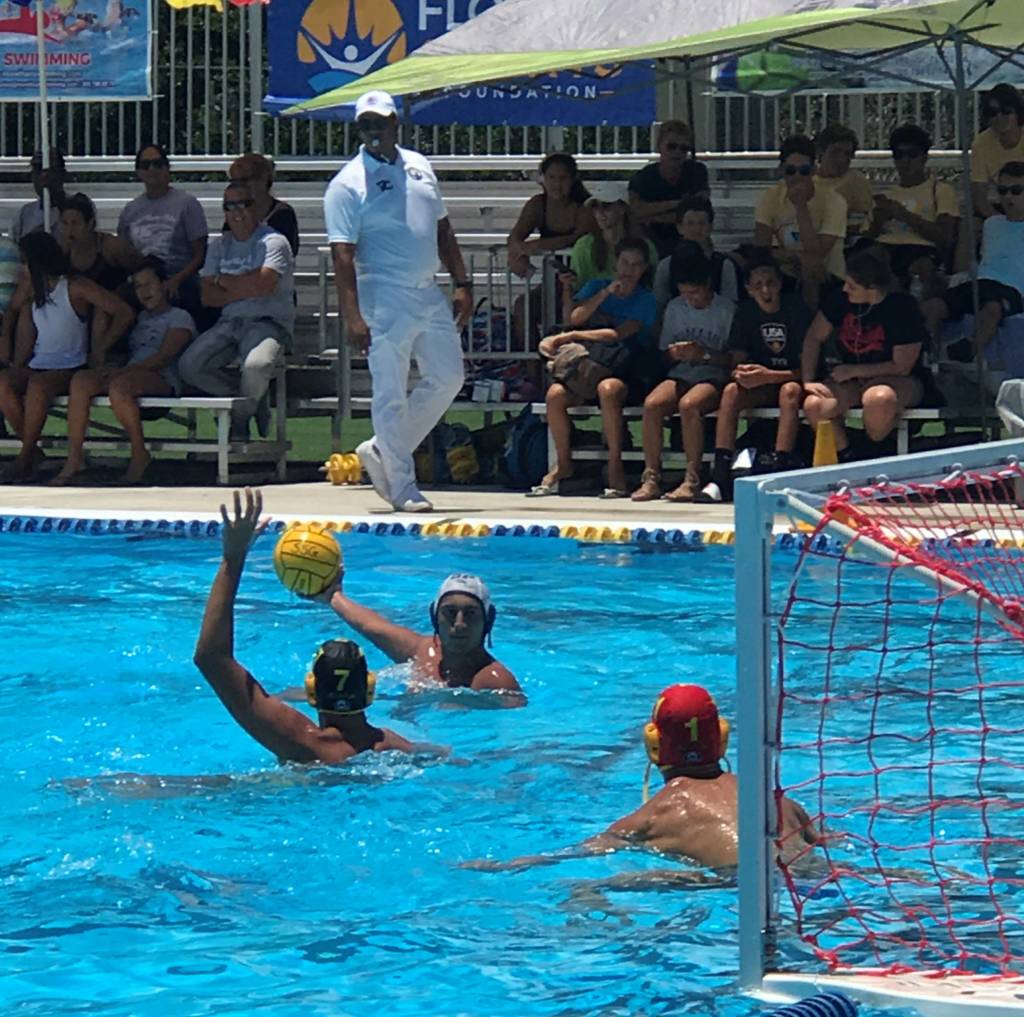 Sunshine State Games Water Polo Brings a Busy June to a Close in Broward County
It was 35 days ago when the Sunshine State Games, presented by Amazon, summer schedule of sports began in Broward County with Figure Skating and Track and Field.
Now in the final weekend of June, the 43rd Annual Sunshine State Games returns to Broward County for Water Polo and Powerlifting, Alachua County also helps to close out the traditional Games month of June with Fencing.
For what is considered to be one of Florida's most competitive Water Polo events, the 2022 Sunshine State Games Water Polo Championships features 50 teams in age groups ranging from 12 and Under Coed through Men's and Women's Open Divisions.
Games will be played at the Coral Springs Aquatic Center and Boca Raton High School beginning Friday morning at 8:40 a.m. through the final scheduled game on Sunday afternoon, with a start time of 4:30 p.m. Games will be played at Boca Raton High School on Saturday only. The complete schedule can be found at www.sunshinestategames.com/water-polo
During that time, 109 games will be played in eight divisions in four pools. Approximately 1,000 athletes will be in the water representing the 50 teams.
Sunshine State Games Water Polo has produced one of Florida's most recent Olympic Games successes in Ashleigh Johnson, of Miami, and the Riptides Water Polo team. Johnson began playing in the Games in her youth and was a member of the gold medal-winning USA Olympic Water Polo team in 2016 and 2020.
Another Sunshine State Games Water Polo player, Josh Needleman, of Boca Raton and the Florida East Coast Water Polo Club, will be playing on an international level, after this weekend's tournament, in the Maccabiah Games, in Israel, in July.
Needleman's water polo story involves high dreams, hard work, and a commitment to give back. "I started swimming competitively in middle school. When I joined the Olympic Development Program through USA Water Polo, the director said there were future Olympians in this crowd, and I decided that would be me," he said.
He played competitively in college, at Occidental College in California, played for teams in Serbia and Switzerland, and upon returning to Florida, started the Florida East Coast Water Polo Club and coaches the girls' water polo team at St. Thomas Aquinas High School.
Needleman will compete in the Men's Open Division at the Sunshine State Games, sponsored by Amazon, leaves shortly after to represent America in the World Maccabiah Games water polo competition in Israel in July. Often referred to as the "Jewish Olympics," the competition was first held in 1932 and is an international Jewish and Israeli multi-sport event held every four years with more than 10,000 athletes from 85 countries.
"My mom, Jill Needleman, won a bronze medal in tennis in the 1990 Pan American Games. She died last year, and this opportunity to honor her by playing on the American team at Maccabiah is a dream come true," he added. "It also highlights that boys and girls playing in the Sunshine State Water Polo Competition this weekend could be future Olympians or international players – the competition is that good!"
Approximately 10,000 athletes, from 80 countries are expected to compete in over 40 sports categories, at the 2022 Maccabiah Games.
Nearly 90 fencers will be on the strips at the Legacy Park Multipurpose Center, in Alachua, Saturday and Sunday in Epee, Foil and Sabre events, beginning at 8:30 a.m. both days. Athlete divisions range from 8 and under through Veteran's, from six-year old Calvin Knapp, of Oviedo, to 73-year old Randall Bushey, from Newberry.
Knapp and five other young athletes will be competing in the 8 and under division. The 2022 Games are the first time the Fencing competition has offered an 8 and under division.
It will be a youthful crowd in Alachua as 73 of the 88 registered fencers are 21 years old or younger.
Finally, Powerlifting will be held on Saturday, with 30 athletes stepping up to the bar for the Bench Press, Deadlift and Squats, at Lift District Fitness, in Margate, beginning at 9:00 a.m.
Through last weekend's schedule of events, 16 sports have been held, since February, with over 6,700 athletes in action.
Results from previous competitions, dating back to the AAU Volleyball Tournament in February through last weekend's events in Polk counties are updated at www.sunshinestategames.com/results.
Upcoming 2022 Sunshine State Games, presented by Amazon
Calendar of Events
All Sports, Dates and Locations Subject to Change
June 24-26, 2022
Sunshine State Games Water Polo Championship, Coral Springs Aquatic Center and Boca Raton High School
June 25, 2022
Sunshine State Games Powerlifting, Lift District Fitness, Margate
June 25 & 26, 2022
Fencing, Legacy Park Multipurpose Center, Alachua
August 12-14, 2022
International Beach Games, Panama City Beach
The Sunshine State Games, presented by Amazon, are an annual presentation of the Florida Sports Foundation, the official sports promotion and development organization of the State of Florida. The Games are held in conjunction with local partners that include, Central Florida's Polk County Sports Marketing, Clay County Tourism, the Gainesville Sports Commission and Visit Lauderdale. Now in its 43rd year, the Sunshine State Games are the longest continuously-running State Games in the U.S.