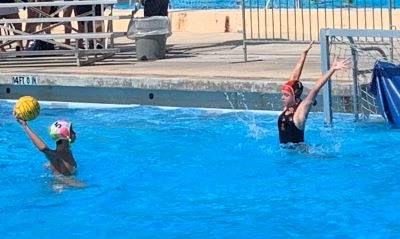 Sunshine State Games Water Polo Goalies Stare Down Opponents and Get Big
The 2022 Sunshine State Games, presented by Amazon, Water Polo Championships are coinciding with the NHL Stanley Cup Finals and goalies are getting a lot of work.
Tampa Bay Lightning goalie, Andrei Vasilefskiy is getting a lot of attention as one of the top goalies in the NHL. In the fast-moving NHL game, he stares down players flinging hard pucks towards the goal.
This weekend at the Coral Springs Aquatic Center and Boca Raton High School, Sunshine State Games Water Polo Goalies stare down opponents throwing balls toward them with only their head, chest and arms sticking up out of the water.
No headgear, no arm and leg padding, like their NHL counterparts. Just a cap with some ear protection for the Water Polo goalies
The over 100 Sunshine State Games Water Polo games scheduled for this weekend, may only have a 24 minute clock time, but games last for 50 minutes. Water Polo goalies are treading water for the entire game, many times having to play the full game since teams may not have a backup goalie.
"Being a goalie is really hard," said Sunshine State Games Water Polo Sport Director, Anna Rosen, who also coaches the St. Thomas Aquinas High School Girl's Water Polo team. "I would never want to play that position."
Besides being fearless and aggressive, one of the prerequisites for playing the goalie position is height, according to Josh Needleman, the goalie for Florida's East Coast team, who played college Water Polo, at Occidental College in California.
"I'm 6-3 and I'm considered short for a goalie," he said. "The U.S. National Team goalie is 6-7. It's all about the wingspan."
Audrey LaPlant (pictured above getting big), of the Seminole Coed 14 and under team and 18 and under Girl's, team stands out among her teammates at 5-9 with plenty of room to grow. She's the starting goalie on the 14 and under team and a backup on the 18 and under team.
"When I first started playing, the coaches saw my height and put me at goalie right away," LaPlant said.
Besides the height and wingspan advantage, she also plays with an aggressive nature. It's the kind of mentality needed when an opponent is four feet away from you and trying to get the ball past you. Especially when the opponent is pump faking a throw and maneuvering from side to side to try and gain an advantage.
"When that's happening, I try to stay still, get big and be the most intimidating player in the pool," she said.
The soon-to-be eighth grader from Ocoee, LaPlante has advanced quickly in the game of Water Polo, having played for just over a year.
"A family friend suggested I give it a try and at first I hated it," she admitted. "But once I got put in as a goalie, I fell in love with it."
As a member of both the 14 and 18 under teams, LaPlante returns to action on Saturday and Sunday and has quite a future ahead of her with a goal of playing college Water Polo.
On the first of three days at the Coral Springs Aquatic Center, South Florida Water Polo, which has teams playing in six of the eight divisions, combined to win eight games. The Boy's 16 and under, Girl's 18 and under and Men's Open teams each won two pool play games.
For results from the 2022 Sunshine State Games Water Polo Championships and other sports of the Games, dating back to February, please visit www.sunshinestategames.com/results.
Pool play continues on Saturday at Coral Springs Aquatic Center and the Men's Open Division at Boca Raton High School. The events are free and open to the public.
Also being contested on Saturday is Powerlifting at Lift District Fitness, in Margate, and Fencing at the Legacy Park Multipurpose Center, in Alachua.
The Sunshine State Games, presented by Amazon, are an annual presentation of the Florida Sports Foundation, the official sports promotion and development organization of the State of Florida. The Games are held in conjunction with local partners that include, Central Florida's Polk County Sports Marketing, Clay County Tourism, the Gainesville Sports Commission and Visit Lauderdale. Now in its 43rd year, the Sunshine State Games are the longest continuously-running State Games in the U.S.