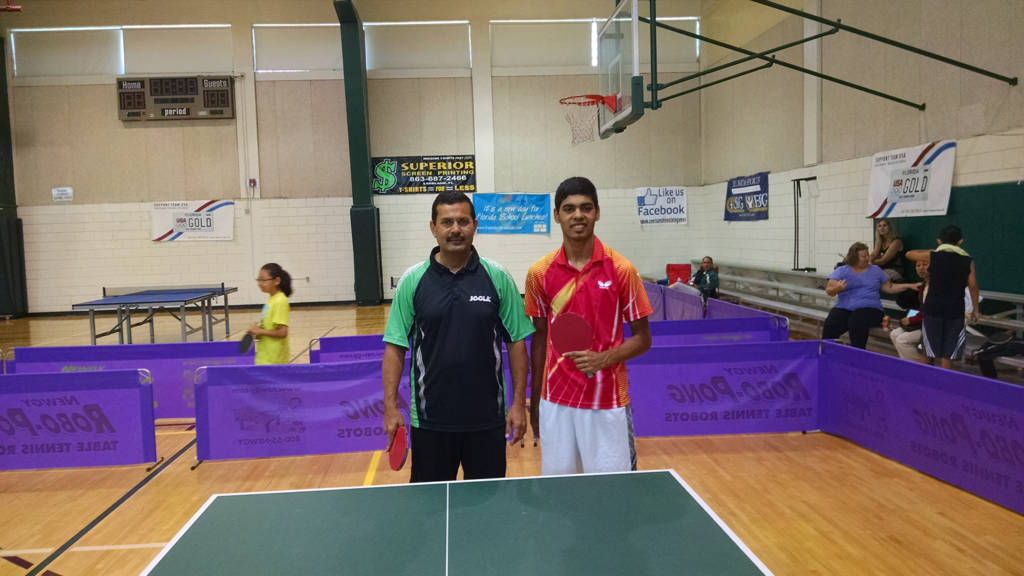 TALLAHASSEE, Fla. – One interesting aspect of the Sunshine State Games, being an Olympic-style Sports Festival for all ages, is there are times where it pits family members against one another on the field of play.
On Sunday, June 23, 2013, a week after Father's Day, father and son, Arun and Jay Khatri, of Lakeland, found themselves in the same championship bracket in the Sunshine State Games Table Tennis Championships in the Under 2300 division.
In 2012 and 2013, teenage son, Jay, and his father, Arun, were competitors in the Sunshine State Games Table Tennis Championships, held in their backyard of Polk County. During those years, Jay was a student at Bartow High School and Arun worked as a Civil Engineer designing bridges in the local area.
They also took time to play table tennis with the Lakeland Table Tennis Club.
"I'm very active playing table tennis and try to play in every tournament in Lakeland, unless I'm out of town," said Arun.
Like most young people during their high school years, Jay had a wide variety of interests besides table tennis.  In 2014, he competed in the FIRST Robotics Competition Championship, in St. Louis, Missouri.  The Championship featured high school teams from around the world against each other in the programming, construction and operation of robots in a structured competition format.
As a member of Neutrinos, a team he formed in his garage with seven members from Tampa and Lakeland area high schools, Jay, then a junior at Bartow High School, was one of the drivers of the robot.
Since he and his sister were involved with the team, Arun became involved and soon took the responsibility of the team's coach.  A role he still holds.
"It's now all a Tampa Bay-area based team," Jay said.  "But it's all family friends, so my dad is still involved."
Following his high school graduation, Jay earned a bachelor's degree from Texas A&M University in Electrical Engineering, in the spring of 2020.  He has started his own computer software business focusing on analytics.  He is currently building a client base, making it easier for them to drive insights from their websites.
Since winning a handful of Sunshine State Games medals between 2011 and 2018, Arun began competing in Senior Games competitions and traveled to Albuquerque, New Mexico, for the 2019 National Senior Games.  Competing in men's singles and doubles, Arun admits he didn't fare well in singles but had a seventh-place finish in doubles in the 60-64 age group, with Thomas Running, of Wisconsin.
"I picked up random partner at the National Senior Games since I couldn't find one from Florida," Arun said. "We met and practiced together for a day and did well."
Besides his talents with a table tennis paddle, Arun's job as a civil engineer provides a service to Polk County residents, designing bridges to move traffic.  He designed bridges crossing over Interstate 4 running through Lakeland and the overpass bridges near the Tampa International Airport leading to the Courtney Campbell Causeway.
In 2010. 13-year old Vinay Desai, of Pembroke Pines, burst on to the Sunshine State Games Table Tennis scene, winning a gold and silver medal in two of the highest divisions of play.  He won the gold medal in the Under 2500 division and a silver in the Open Division, losing the final match to Kit Jeerapaet, one of the top players in the state.
Jeerapaet's USA Table Tennis (USATT) rating at the time was 2276, while Desai's was 2111. The maximum score for rating is 3000.
Desai returned to the Sunshine State Games in 2015 as Florida's highest-rated active Table Tennis player. He won the two most competitive divisions, the Open and Under 2500 Division, gold medals and his father, Phil, won the Under 2000 division.
Following his successes in the Sunshine State Games, Vinay attended the University of Florida, where he played two years of table tennis.  He was the captain of the Gators team that competed in the National Collegiate Table Tennis Association. He represented the University of Florida at the 2018 College Table Tennis Championships, in Round Rock, Texas, where he was among more than 300 collegiate table tennis players.
He graduated from Florida in December of 2019 with a bachelor's degree in Economics.  He was scheduled to begin a job with KPMG, in Miami, in July, in a finance role as an evaluation associate.  However, the COVID-19 pandemic has pushed his start date until December.
Since his graduation and start date with KPMG, he has been in Gainesville working as a full-time stock trader, using his background in finance and economics to his advantage.
As a top-ranked player, who still holds the highest USATT ranking by a player in the state of Florida with a 2485, Desai has traveled to play in the U.S. National Championship Tournament and U.S. Open Championship.
"I can't remember him losing at any of the tournaments at the Lakeland Table Tennis Club," said SSG Table Tennis Sport Director Brad Woodington.
Desai's experiences at the table and in athletic competition have guided him to his current success.
"Playing table tennis at a high level definitely gave me a competitive spirit that I used to succeed in whatever I do in life," he said.
A competitive spirit that emerges, even if it's against a member of the family.