CLEARWATER – The SSG International Beach Games drew some of the best and the brightest in the Florida Amateur Sports landscape to Clearwater Beach. Here's a sample of some of the folks who showed up to participate, coach or spectate.
Kibwe Johnson, two-time Olympian (2012 and 2016) in the hammer throw, now coaching at IMG Academy in Bradenton, had two athletes competing. Receiving tutelage from Johnson are Rubin Banks, from England, and Andres Nava, from Mexico. Banks, a senior at IMG, is being recruited by several schools from the SEC, Big Ten and ACC.
Walt Deal, a 79-year old Florida Senior Games athlete and administrator from Clearwater, is the director of the Good Life Games of Pinellas County. He was considering competing in the Ultra Weight Throw Pentathlon. However, in the under 80 event, he would have thrown the 98 pound weight, a weight he was not prepared to throw.
Deal is an USATF Masters All-American in his age group in the Ultra Weight throw and has competed in many events. The Good Life Games also has a Weight Pentathlon Event with the Shot Put, Discus, Weight Throw, Hammer Throw and Javelin.
Bruce Takato, the Head Official from the United States Powerlifting Association and International Powerlifting League, to be one of three internationally certified officials on site to verify world records, traveled to the Games from Albuquerque, New Mexico.
"He's as big of a boss as I have," said Powerlifting sport director Richard Ficca, who along with Andrew Yerrakadu, of Tampa, made up the trio of International officials.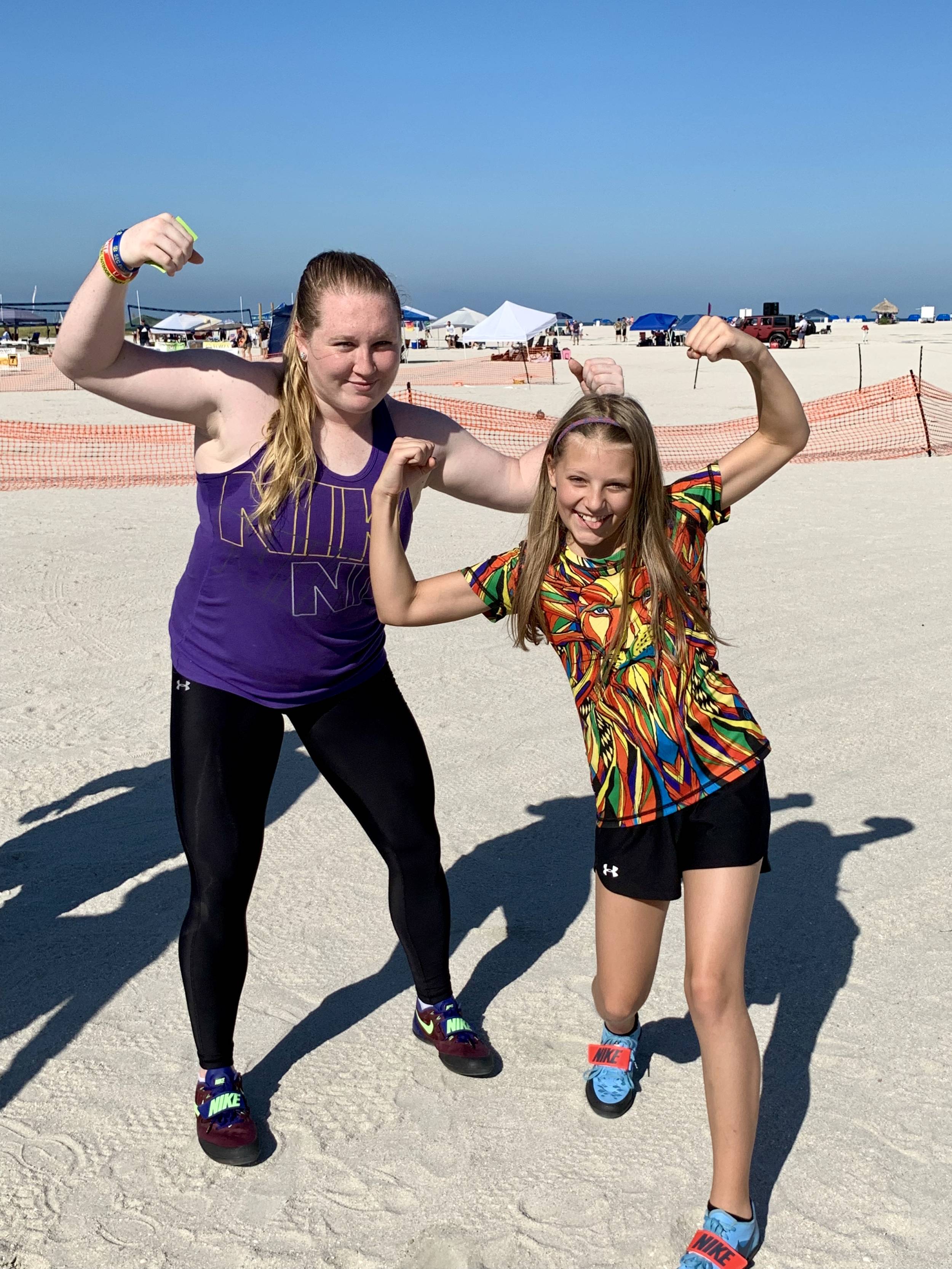 Takato began powerlifting in 1974 and began as an official in 1985. He coached the U.S. National Team and worked his way up the ladder to his current status.
Perched in a chair to the left of the lifting platform, Takato leaned forward and studied every lift made.
"I'm looking to verify the depth of the lift primarily," he said. "Making sure the lifters go deep enough before finishing in the same position as they started. There's much more to the lifts than meets the eye."
2018 Athlete of the Year Madison Malone competed in the Beach Games for the third time in the last four years and had a 20-pound weight throw of 19.04 meters (62.5 feet). The 2019 SEC Freshman of the Year for Throws in Indoors and Outdoors competition, only threw in one event.
"I don't think my coach at Auburn (Patrick Ebel) would be happy if I threw more," said Malone.
She did take time to offer tips to her 15-year old brother, T.J., who was also competing and provide moral support to fellow student of Jim Griffin, a South Florida throws coach and Weight Throws Sport Director, Rowan Sundevall.
The 12-year old Sundevall and her father Petrus competed in the Weight Throws event together.
USATF officials are targets in Weight Throws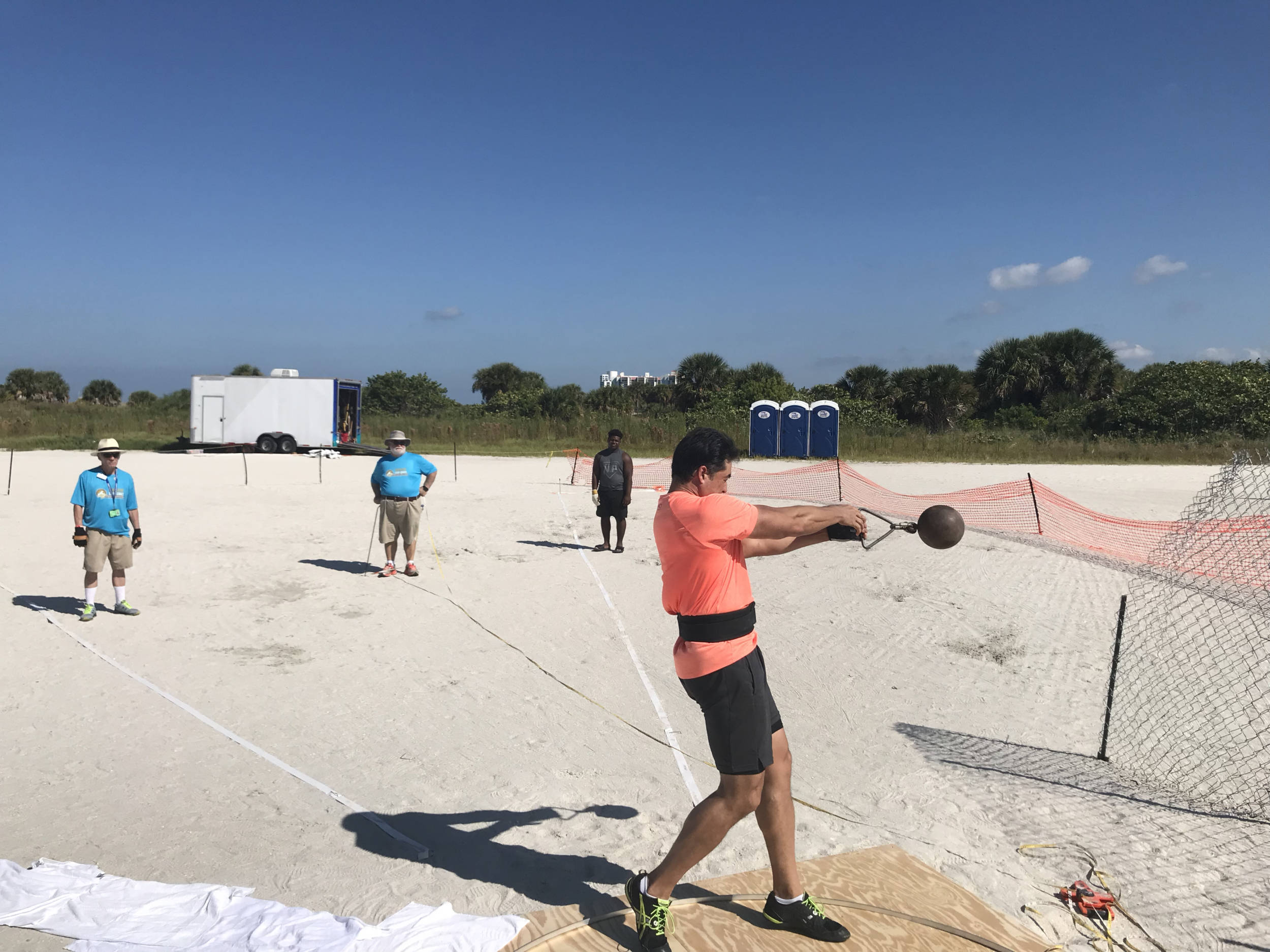 While Ultra Weight Penthalon athletes are getting ready to throw weights ranging from 20 to 56 pounds, four USATF officials are standing up to 75 feet in front of them waiting to measure the lengths of the athletes throw.
It looks like a target practice for the throwers.
But as the weighted round ball starts heading their way, the trained and talented officials casually sidestep the ball as it thuds to the sand.
Apparently, these officials with well over 100 years of track and field officiating experience know what they're doing. They include Tony Tussing, John Sales, Gio Pugliese, Erica Baker, Debra, Erica Baker and Dan Koch.
"You have to pay attention and always face the direction of the object coming at you," said Tony Tussing, a seasoned official from DeLand and the state director of the Florida Senior Games track & field competition.
While the athletes in the throwing circle probably don't even realize the officials are there until they call out their score, Petrus Sundevall, an athlete throwing in Ultra Weight Pentathlon had no problem with them being moving targets.
"They can move farther back so I can target them for a better throw," said Sundevall.
There you have it. The officials could be targets and points of motivation for and event that featured throwers from age 12 to 70.
"It's not a glamorous job, but someone's got to do it," said Jim Griffin the Ultra Weight Throw Sport Director, Jim Griffin.
About the Sunshine State Games
The 40th Sunshine State Games are presented annually by the Florida Sports Foundation (FSF), the state's lead sports promotion and development organization, and a division of Enterprise Florida, Inc. The Foundation works in conjunction with a variety of local sports industry partners to present the different competitions. The Sunshine State Games, an annual amateur sports tradition in Florida, is part of the state's $57.4 billion sports industry that accounts for 580,000 jobs statewide. #PlayInFlorida