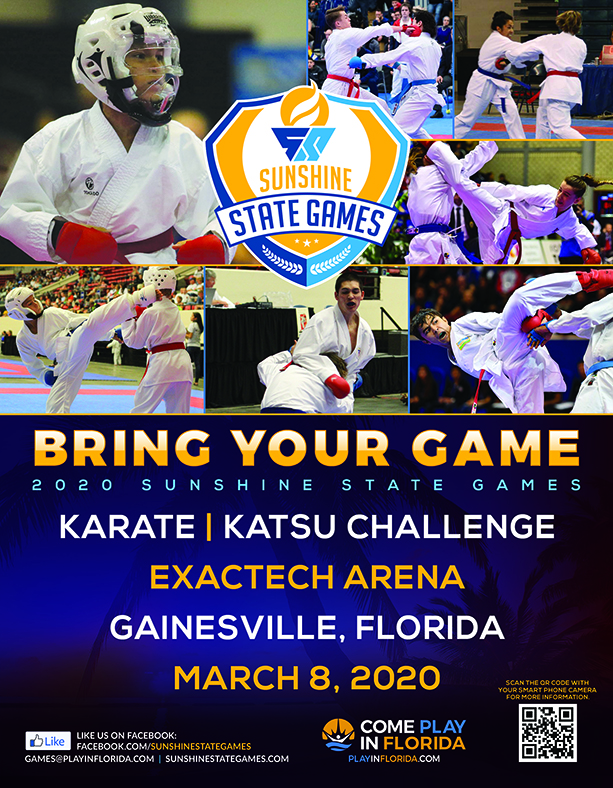 SSG Karate | Katsu Challenge Information Page
TALLAHASSEE – The 2020 Sunshine State Games continue this weekend as the Karate | Katsu Challenge will be contested on Sunday, March 8 at the Exactech Arena in Gainesville. Nearly 100 competitors will compete in the Challenge that serves as a National Qualifier for the USA Karate National Championships that will be held in July in Spokane, Washington.
In its second year partnering with the Sunshine State Games, the Katsu Challenge will also work with the Gainesville Sports Commission to bring economic impact to the Gainesville area for the event. The Katsu Dojo has hosted Sunshine State Games competition, now in its twentieth year.
"We are thrilled to host over 100 competitors from throughout Florida and the southeast United States," said Sensei Jason Sorgi, Sunshine State Games state director for Karate. "Sunday's competition is a great partnership with the Sunshine State Games and Gainesville Sports Commission to host the Katsu Challenge.  It allows our athletes to compete at a prestigious event in a safe environment, while promoting friendly competition."
The Katsu Challenge has been hosted annually at the Exactech Arena since 2007.
Doors open at 8:00 a.m. on Sunday for athlete check-in. The event's Opening Ceremonies begin at 9:00 a.m. with competition kicking off shortly after. Tickets to the Katsu Challenge are available for $10.00 in cash on the day of the event with children aged five and under receiving free admission.
A complete listing of the Katsu Challenge's competitors and athlete check-in list can be accessed by clicking here.
The Sunshine State Games are presented annually by the Florida Sports Foundation (FSF), the state's lead sports promotion and development organization, and a division of Enterprise Florida, Inc.  The FSF works in conjunction with a variety of local sports industry partners to present the different competitions.  The Sunshine State Games, an annual amateur sports tradition in Florida, is part of the state's $57.4 billion sports industry that accounts for 580,000 jobs statewide.
To access a complete calendar of events for the 2020 Sunshine State Games, click here.